Low voter turnout: Even Congress members Ugrappa, Ramya fail to cast vote
Ugrappa hails from Tumakuru but is a voter of Bengaluru South constituency which went for election on April 18. But Congress's Ballari candidate was busy asking people to vote for him and failed to cast his vote. Ballari will go to election on April 23.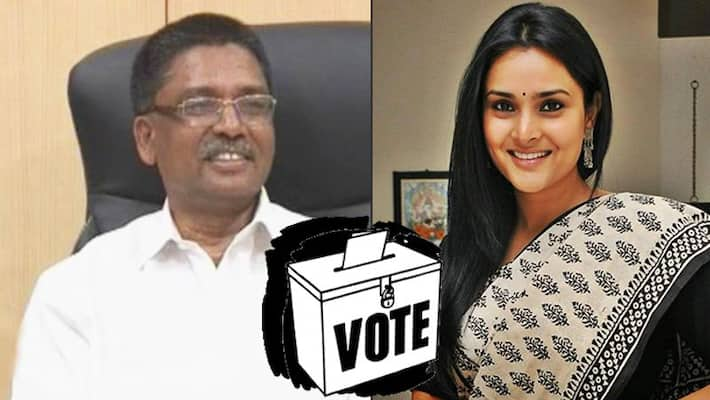 Bellari: VS Ugrappa is the Congress candidate for Ballari Lok Sabha constituency. He was busy asking people to vote for him but did not cast his vote in the first phase of Karnataka elections, held on April 18. 
Ugrappa hails from Tumakuru but resides in Bengaluru and is eligible to vote in Bengaluru South constituency.
But the veteran Congress leader was busy campaigning for himself in Ballari, from where he is contesting and failed to be present in Bengaluru to cast his vote.
He was of course trolled on social media, where people asked him how he could ask people to vote for him when he himself did not vote.
VS Uggrappa was earlier given a ticket to contest in the legislative by-elections held in May 2018 from Ballari. As he was from Tumakuru, there was opposition to his candidacy from the constituency.
However, Ugrappa managed to defeat BJP leader Sriramulu's sister J Shantha and became the MLA. He defeated Shantha by a margin of over 2,40,000 votes.
With this victory in mind, the JD(S) and Congress have touted Ugrappa as their candidate for Lok Sabha election. This time, Ugrappa is up against Y Devendrappa of the BJP.
Election will be held in Ballari in the second phase of polls in Karnataka on April 23. Results will be out on May 23.
Former Mandya MP and social media chief of Congress, Ramya, too did not cast her vote in Mandya on April 18.
 
After her defeat in 2013, Ramya was hardly seen in Mandya. She even vacated her rented house in Mandya overnight and moved to Delhi.
in earlier instances, Ramya had not voted in Assembly elections on May 12, 2018. She also missed voting during the Lok Sabha by-election held in November 2018.
Last Updated Apr 19, 2019, 5:58 PM IST