Here is the complete list of Lok Sabha candidates from all Bengaluru constituencies
Bengaluru has four constituencies - Bengaluru Rural, Bengaluru South, Bengaluru North and Bengaluru Central. These constituencies will vote on April 18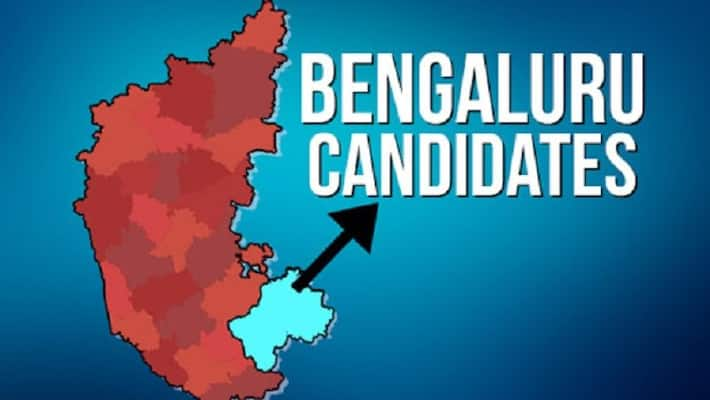 Bengaluru: Lok Sabha election will be held on April 18 in four constituencies in Bengaluru; Bengaluru Rural, Bengaluru North, Bengaluru Central and Bengaluru South.
BJP had not announced the name of Bengaluru South candidate till late last night (March 25). Though it was speculated that late Union minister Ananth Kumar's wife Tejaswini Ananth Kumar would get the ticket, the BJP has finalised on RSS sympathiser Tejasvi Surya.
In Bengaluru Rural constituency, DK Suresh will contest the MP position, whereas BJP's Ashwat Narain be his key opponent.
Bengaluru North is one of the most talked about constituencies after Bengaluru South as JD(S) chief Deve Gowda was touted as a candidate from here. But when senior Gowda chose Tumakuru, JD(S) returned the ticket to the constituency to Congress. On the night of March 25 Congress finalised on Byatarayanapura MLA Krishna Byre Gowda to face DV Sadananda Gowda of the BJP.
BJP was always sure of fielding PC Mohan (sitting MP) from Bengaluru Central. But Congress announced Rizwan Arshad as its candidate after much deliberation. Meanwhile actor Prakash Raj has filed his nomination from the constituency as an independent.
Here is the candidate list from Bengaluru constituencies for Lok Sabha election:
| | | | | |
| --- | --- | --- | --- | --- |
| No | 1 | 2 | 3 | 4 |
| Constituencies | Bengaluru Rural | Bengaluru  North | Bengaluru Central | Bengaluru  South |
| BJP | Ashwat Narain | DV Sadananda Gowda | PC Mohan | Tejaswi Surya |
| Congress | DK Suresh | Krishna Byre Gowda |   | Rizwan Arshad |
| JD(S) |   |   | BK Hariprasad |   |
| Others | Rama TC (SUCI) | Mir Layak Hussain (IND) | Prakash Raj (IND) | Ravikumar T (Pragatisheel Samajwadi Party (Lohia) |
|   | Raghu Janagere (IND) | Syed Khwajawali Haidri (BSP) | Nawaz Dilbar (Karnataka Karmikara Paksha) | Sanjay G (Uttama Prajakeeya Party) |
|   | Ishwara (IND) | C Ravikumar (IND) | Mohammed Hanif (IND) | CK Ravichandra (IND) |
|   | N Krishnappa (Pyramid Party of India) | Abdul Kareem Desai (IND) | T Dayalkumar (IND) | R Shekhar (Viduthalai Chiruthaigal Katchi) |
|   |   | Tulasappa Dasar (IND) | Jannifer R Russel (IND) | A Raju (BSP) |
|   |   |   | MK Pasha (IND) | Thyagaraj (Republic Sena) |
|   |   |   | Raparatti Anil Kumar (IND) | Mahadesh (IND) |
|   |   |   | Francis Binny Jose (IND) | Yogesh Nagaraj (IND) |
|   |   |   | B Krishna Prasad (Protist Bloc India) | Jagadish N Agnihotri (IND) |
|   |   |   | A Kristuraj (IND) | Brahmanand N (IND) |
|   |   |   |   | Manohar SN Iyer (IND) |
|   |   |   |   | B Chikkaganesh (IND) |
|   |   |   |   | Prashantha C (IND) |
* The details are as per 2 PM on March 26
Last Updated Mar 26, 2019, 4:45 PM IST