Disgruntled Congress MP Muddahanumegowda threatens to contest against Deve Gowda in Tumakuru
Congress MP Muddahanumegowda expressed his anger against handing over the Lok Sabha ticket for the Tumakuru seat to the JD(S) and said that he will wait for the B-Form from Congress to contest against alliance leader Deve Gowda till Monday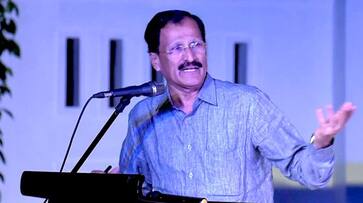 Tumakuru: As soon as JD(S) chief Deve Gowda announced that he will not consider Bengaluru North but will contest from Tumakuru, the sitting MP of the constituency has heralded the trumpet of rebellion against Congress.
"I will wait till Monday for the B-Form from Congress and file my nomination from the party. If not, I will take a decision on Monday, but I will contest from Tumakuru," he said.
"The Congress leaders informed me that the party was handing over the Tumakuru constituency to their alliance party. I have asked leaders to give me a reason for taking away my seat," Muddahanumegowda said.
"All the while, they called me an active and good worker just to use me as a scapegoat. I will go in front of the people's court (election) seeking justice," he exclaimed.
"I have worked hard in my constituency for five years and have ensured corruption-free administration. I will not give up my seat for the JD(S)," he said.
Former Prime Minister Deve Gowda is all set to file his nomination from Tumakuru on Monday between 2 PM and 3 PM.
Congress has allotted the Tumakuru and seven other constituencies in Karnataka to the JD(S) under its seat-sharing agreement. Muddahanumegowda expected Deve Gowda to choose the Bangalore North constituency and was waiting for him to announce the same, so that he will convince the Congress leaders to give him a ticket from Tumakuru.
Fearing rebellion from Muddahanumegowda, even Congress was trying to convince Deve Gowda to contest from Bengaluru North. But with decision made now, Congress will have a tough time convincing Muddahanumegowda. If the party fails to do so, and Muddahanumegowda turns rebel, then Congress will lose its vote share.
Out of seven Assembly constituencies in Tumakuru, BJP has won four, JD(S) three and Congress one.
 
Last Updated Mar 23, 2019, 7:23 PM IST