Bengaluru South: BJP aims to repeat Lok Sabha history after 20 years
With five out of eight Assembly seats currently in the bag in Bengaluru South Lok Sabha constituency and over 2-lakh win margin in previous Lok Sabha election in 2014, BJP seems to have the upper hand.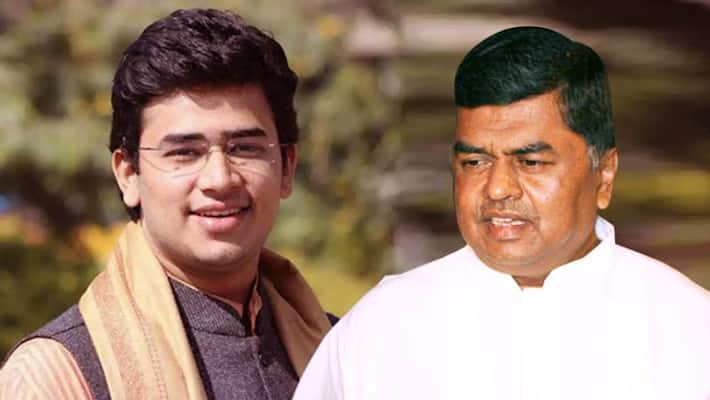 Bengaluru: Having won five out of eight MLA seats in the May Assembly election and a victory margin of over 2 lakh votes in the 2014 Lok Sabha election, the BJP in Bengaluru South seems to have history on their side to defeat Congress stalwart BK Hariprasad who has already lost once against the BJP from the same constituency in 1999.
MP HN Ananth Kumar the then sitting MP of Bengaluru South had secured 4,10,161 votes and defeated Hariprasad by a margin of 66,054 votes. The Congress had managed to get 3,44,107 votes in 1999.
Interestingly, when Hariprasad contested here previously, his current opponent Tejasvi Surya was just eight years old. Tejasvi who was later mentored by HN Ananth Kumar, will look to take the legacy left behind by the former Union minister.
However, the problem he faces is that the local leaders are visibly upset and have questioned his selection. Leaders like R Ashoka, Satish Reddy, V Somanna and others had asked the widow of HN Ananth Kumar to contest and had begun campaigning too. The sudden move has surprised these leaders, with few MLAs like Basavaraj Yatnal who were vocal in their criticism.
However, the BJP maintains that all are united, and these are just minor issues that will be sorted out. "There is absolutely no dissidence, we are united, there is only an initial hiccup in the party. Ashok is a top leader in Bengaluru South. He will handle the situation well and work hard to ensure Tejasvi Surya's victory," said S Prakash, BJP spokesperson.
Surya in an interview has also claimed that, when HN Ananth Kumar stood for elections, it was Ashoka, Somanna, Sadashiva and other leaders from Bengaluru South who pulled his (Ananth Kumar's) chariot and ensured his victory. Tejasvi was confident that they will also do the same to him.
What the numbers say:
In 2014, Ananth Kumar won with a 2,28,575-vote margin by securing 6,33,816 votes. This fight was against Congress' Nandan Nilekani who secured 4,05,241 votes. This victory came as a shock to the Congress as it had four out of eight MLA seats from the South Lok Sabha constituency then. Despite winning the 2013 Assembly election in Govindraj Nagar, Vijaynagar, Chickpet and BTM assembly, Congress could not come close to victory in the 2014 Lok Sabha election as the whole nation was swept away by the NaMo factor.
In the 2019 MLA elections, BJP won five seats and Congress managed to retain BTM and Vijaynagar and defeated the BJP in Jayanagar to secure three seats. Bengaluru South is a BJP bastion, and no doubt, the Congress will be uneasy. BJP won the Padmanabha Nagar, Bommanahalli, Basavanagudi, Chickpet and Govindrajnagar MLA seats.
Congress is still hopeful that it can pull off a miracle as they too have party cadres, and as their loss in Chickpet and Govindrajnagar was by a close margin. It was dissidence which led to sitting MLA RV Devraj's loss to Uday Garudachar. It was speculated that senior Congress leaders fielded SDPI candidate to split votes to defeat Devraj.  The SDPI candidate and BBMP Corporator Mujahid secured 11700 votes.
Uday Garudachar secured 57312 votes and Devraj obtained 49378 votes. The win-margin of 7,985 votes indicated that Mujahid ate up a few votes of the Congress in the process.
Similarly, in Govindraj Nagar MLA seats, BJP candidate V Somanna secured 79135 votes against sitting MLA Priya Krishna who obtained 67760 votes. Again, the win-margin was 11,375 votes and in this MP election, the Congress supporters will try to make up for the loss during MLA elections, feels Congress spokesperson Kengal Shreepada Renu.
"The voters are very intelligent, you cannot fool them every time. The BJP won only due to their catchy slogans. People who voted them him into power are now suffering. This is an advantage for us. Apart from this, the Congress would have struggled if they had fielded Tejaswani Ananth Kumar as she has sympathy. The forward community segment of voters who always preferred Ananth Kumar have been let down and are upset with this decision and this factor will help us" a hopeful Kengal Shreepada Renu said.
Last Updated Mar 29, 2019, 4:59 PM IST