'Unreal Aliens' review: A funny take at 'unreal' situations in a real world
Rajkumar Hirani meets Karthik Laxman as PK goes UA.
Before you expect an Aamir Khan between the covers, hold on.
'Unreal Aliens' is as real and unreal as it can get.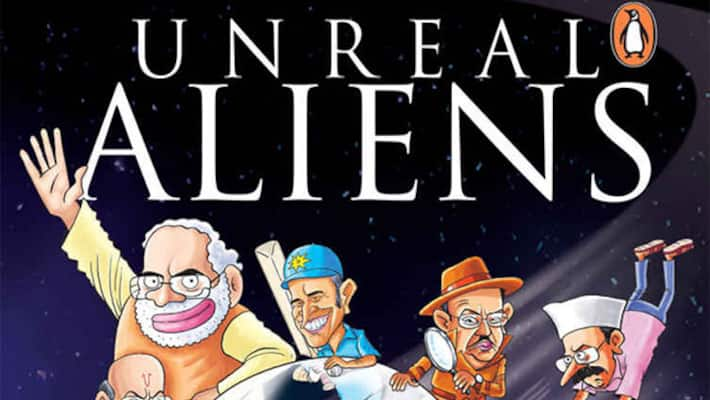 Title: Unreal Aliens
Publisher: Penguin
Price: ₹199
Spoiler alert though the cover illustration by Manjul pretty much gives away the plot. This second book by Karthik revolves around the arrival of aliens on earth and they come to India in search of their prince. When Prime minister Narendra Modi is not willing, it results in an upheaval and a turn of events, unimaginable.

But it is not a sci-fi novel, though it peters towards that genre somewhere in the middle and I must admit that like Deve Gowda in the book, I too got lost somewhere in that portion. It is a book that is in the satire genre relying heavily on characters from the real world - from the world of politics, sports, media and bureaucracy. Like with the website `The Unreal Times', it borrows from situations that have taken place in real India and puts them in different situations to bring out the ridiculousness. It is like reading a comic strip. 

In the acknowledgements, Karthik thanks many people but none more appropriate than Mohammed Ali Jinnah, "whose espousal of the two-nation theory gave this world its first satirical state, Pakistan''. And Charles Antoni. He is reportedly to be the owner (No guarantee that this bit is real) of the Greek restaurant at Cambridge University "where Rajiv Gandhi reportedly first met Sonia Gandhi and instantly fell in love - a landmark event that eventually gave us Rahul Gandhi''. 

Much of the book's humour is actually at Rahul Gandhi's expense and unless he likes to laugh at himself, it may not be a good idea for him to reach out for his book. Maybe they should tell the Youth Congress types to organise a dharna outside Karthik Laxman's house, labelling him as a saffron agent in an unreal garb. But that may mean the Congresswallahs may have to read the book first? Serious kwestion !

The description of the cricket match, a la Lagaan has its moments of mirth, much of it at Rajdeep Sardesai and Ravi Shastri's expense. The portion that deals with the arrest of the leaders is again a riot, given some of the descriptions. But the best is perhaps the chapter based in Pakistan and the chat between Rawalpindi and Beijing. 

But readers who choose to pick up this book ought to be clued into the politics of modern-day India and be avid watchers of English news channels, failing which there is a serious risk of feeling lost in the unreal real world. 

Statutory Warning : This is yet another book from an author from the IIM stable this month. You know of the first, don't you? What is with IIM pass out-turned-authors and having an identity crisis? If one of them tried to "be a woman" or at least think like a woman, here is Karthik hallucinating in an unreal world. Though mercifully, some of his hallucinations are funny. 

Don't go expecting a great plot. Brush up your GK and gossip know-how. Only then you will be able to guffaw. 
Last Updated Mar 31, 2018, 6:50 PM IST