Parvathamma was a strength behind the icon of Sandalwood, Dr Rajkumar. In fact, the matinee idol himself had proudly stated that "After Parvathi came into my life, my good days began. She was my Lady Luck."
Born to Appaji Gowda and Lakshmamma couple on December 6 in 1939 at Saligrama in Mysore district, Parvathamma was very young when she tied the knot with Rajkumar. She was just 13 when she wedded Rajkumar in June 25, 1953. The very next year, Rajkumar's first movie 'Bedara Kannappa' was released. This opened the doors of fortune for Rajkumar who was known as a theatre artiste, until then. The success of the movie made him the new star and Rajkumar had always attributed his success to Parvathamma Rajkumar.
Although she was very young and naive about the grammar of films, she had a vision which reflected while she offered suggestions to Rajkumar, occasionally.
Parvathamma Rajkumar cuts ribbon to mark the launch of editing of Siddalingaiah's 'Doorada Betta' movie. Assistant Director MS Rajashekhar, assistant producer Shivakumar, editor NC Rajan and producer Vikram Srinivas were present.
It did not take much time for the young Parvathamma to understand the nuances of film-making. She soon realised that to make movie successful not just actors but great script and brilliant scripts coupled with literature. She would also suggest producers of Rajkumar's movies about how technicians and script play an important role in making a movie, super duper hit. This slowly gave a new dimension to her life. She began attending discussions of scripts with Rajkumar. In fact, Parvathamma's keen on digging out best scripts along withRajkumar's younger brother Varadaraj resulted in establishing Rajkumar as a superb actor. These exercise played a pivotal role in shaping Rajkumar's career.
As she began to understand the basics of cinema making, she decided to launch her own production house with the movie, 'Trimurthy'. She played an active role in choosing the script to hiring technical team. It must be noted that she had a great respect for litterateurs. She had believed that littearateurs  were the soul of any quality movie. She brought litterateurs, poets on board of her production house. This in fact proved a great deal in establishing Rajkumar as an icon of Sandalwood. Not just him, even the technicians and script writers too flourished under her banner.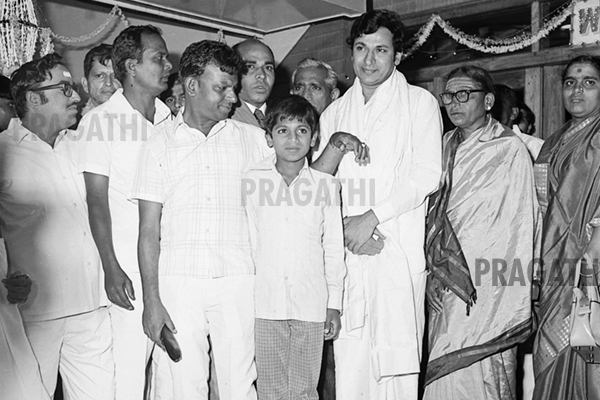 Parvathamma Rajkumar, Dr Rajkumar and young Shivarajkumar , director Siddalingaiah during the 100 days celebration of 'Bhootaiahna Maga'.  
During the 50s, the number of Kannada cinemas was very less – hardly four movies would be released in a year. Then, Kannada movies were made in Chennai and release once a year had taken a toll on artistes. They had their commitment. At this time, Rajkumar along with other artistes Balakrishna, Narasimharaju and GV Iyer formed a group called 'Kannada Chalanachitra Kalavidara Sanga' to help each other. They would tour the state and perform to make a living. Parvathamma took care of all the responsibilities of the sangha. "We would tour the state. She stood by us as a pillar of strength," recalled veteran actress B Jaya.
By 70s, Kannada movie industry shifted its base from Madras to its hoe ground. Parvathammamanaged her production house, successfully. The production house did not just helpedRajkumar find a career but of others. Despite her busy schedule, she maintained her family too. She took extra care to not let Rajkumar affected by any rumours. Till recently, she would mediate and solve various issued that dogged the industry and even personal issues of some artistes, too. This clearly reflects, how much she was respected and reverred by everyone in the industry.