Yuvraj Singh hits 6 sixes in an over: Celebrating his 13th anniversary
Yuvraj Singh is the first and only batsman in T20Is to hit six sixes in an over. It was owing to his aggressive attitude, India managed to win the ICC World T20 2007. Since then, Yuvraj has gone on to hold ample records in the format and was termed the 'King of T20'.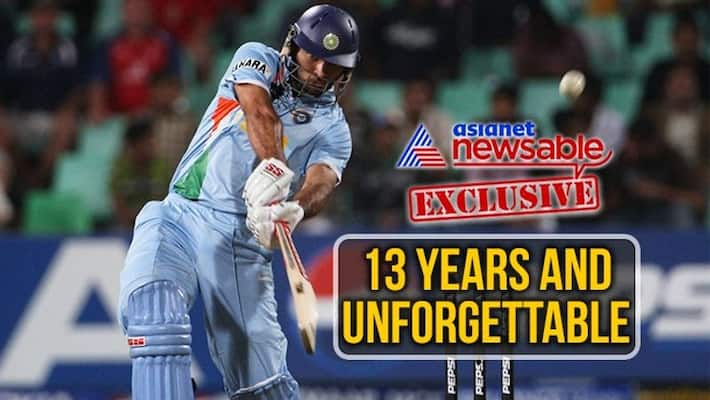 When it comes to the Twenty20 (T20) format, India has produced a number of cricketers who have made a name for themselves. However, the first and foremost name that comes to one's mind is none other than the swashbuckling Indian batsman Yuvraj Singh.
And, when it comes to Yuvraj in the format, the one thing that pops up first in the mind is none other than the moment when he smashed six sixes during the 2007 ICC World T20. The unfortunate bowler at the other end was none other than England's now-renowned pacer Stuart Broad.
It was on this very day 13 years back, when India were facing England in their Super 8 knockout tie. Batting first, India were going steady, when Yuvi had some exchange of words with Andre Flintoff. Charged up Yuvi decided to take on Broad, who was about to bowl a fresh new over.
ALSO READ: Yuvraj Singh's father reveals reason for son coming out of retirement
Yuvi smashed the first one over cow-corner, followed by the second towards backward square-leg. The third was over long-off, followed by another over backward point off a full-toss delivery. Under severe pressure, Broad then bowled between full and short, but Yuvi leaned down on a knee and smashed the fifth and sixth over mid-wicket into the crowd, as the Kingsmead crowd in Durban went ecstatic. He also brought up his half-century in just 12 deliveries.
On a number of occasions, he was asked as to what made him do it, especially following the spat with Flintoff right before he went berserk. Here's what he said:
On the 13th anniversary of this moment, Yuvi's father Yuvraj Singh shared the moment with the boys of DAV college in Chandigarh. In response to this, Yuvraj shared a video, which Asianet received through his father, where the former thanked him.
"Dear dad, thank you for sharing my six sixes moment with the DAV college boys. I really hope that you will be able to produce another Yuvi from this lot. Hazel just told me that she would be coming to DAV college to cut the cake. Unfortunately, I'm not there. But, it's great to hear that, and hopefully, she puts a lot of cake on dad that his white beard becomes black. Thank you for all the love from all the student of the college. See you guys soon," said Yuvi.
While Yuvi announced his retirement last year, he has now decided to make a comeback and play for Punjab again.
Last Updated Sep 19, 2020, 9:59 PM IST