WTC Final, IND vs AUS chatter in the stands: 'R-Ash' decision by Team India?
WTC Final, IND vs AUS: Team India, perhaps, made its surprise selection choice based on the first two hours, not the full five days. Dr Krishna Kishore, Asianet News Chief Correspondent in the US who is accredited by the International Cricket Council and has covered several important cricket series in England, reports from the Kennington Oval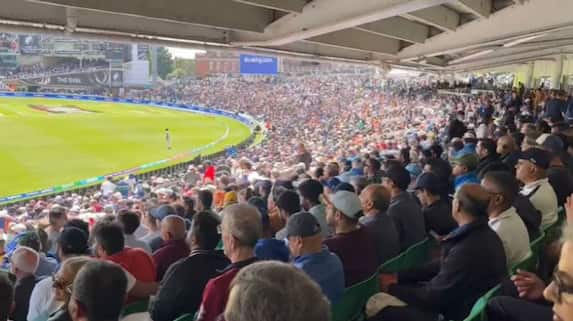 The first session of the World Test Championship final between India and Australia has left many watching the match at the Kennington Oval wondering whether the Indian team management's decision to leave out Ravichandran Ashwin was a hasty one. 
The buzz in the crowd had been electric much before the first ball was bowled. The cloud cover over the stadium perhaps prompted India captain Rohit Sharma to opt to bowl when the tossed coin fell in his favour. The 25000-capacity stadium, the majority of whom Indian supporters, cheered as Mohammad Shami bowled into the stumps at the jittery Australian openers.
WTC Final, IND vs AUS: R Ashwin fans miffed after India opt for Ravindra Jadeja
But as clouds dispersed and the sun came out, the cheers mellowed. As the Australian top order consolidated their position at the crease and started reading the conditions, many thoughts in the stands suddenly drifted to someone who was not in the Indian playing XI -- Ravichandran Ashwin.
Cricket fans and pundits began questioning the thought process behind this exclusion. Excluding one of the top-ranked players in the world against an opposition with which he has had tremendous success became the talking point among the gathering. This is especially when the Australians are playing four left-handed in the top seven of their lineup.
It could have been another ball game had the bowling attack included Jasprit Bumrah. An Oval track upon which the sun starts beating hard could favour the batsmen going forward.
At the toss, Rohit termed the decision to leave out Ashwin as "tough", 'He (Ashwin) has been a match-winner for us, it is not a great occasion to leave him out, but you have got to do what is best for the team in the given conditions,' he said.
Perhaps, it seems, Team India made its surprise selection choice based on the first two hours, not the full five days. Grey clouds are receding at the Oval and a variety of spin could have been favourable.
At Lunch, Australia were at 73/2 with Marnus Labuschange unbeaten on 26 and Steven Smith at two at the crease.
WTC Final, IND vs AUS: Team India pays tribute to Odisha train tragedy victims with black bands
Last Updated Jun 7, 2023, 5:58 PM IST