Wahab Riaz named chief selector of Pakistan cricket team, Mohammad Hafeez appointed as Team director
Pakistan team management has seen another fundamental change unfolding post the ODI World Cup 2023 debacle. Former Pakistani players Wahab Riaz and Mohammad Hafeez have been given key roles at the helm by the PCB.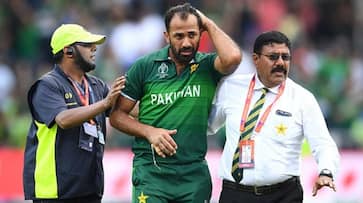 The Pakistan Cricket Board (PCB) has initiated fundamental changes in the structuring of the team management ever since the ODI World Cup 2023 debacle. For Pakistan as a nation, failing in India that too in a tournament as big as the World Cup has not been met with a sporty spirit.
Pakistan government and the top brass at the Pakistan Cricket Board are fuming with the Pakistan cricket team. The humiliating World Cup campaign is being taken very seriously in Islamabad and Lahore. Pakistan captain Babar Azam quickly stepped down from the post of captaincy across all three formats.
Also Read: ODI World Cup 2023: Sri Lanka Cricket Board suspension to be high on ICC quarterly board meeting discussion
With the latest change taking place, former Pakistan fast bowler Wahab Riaz has been named chief selector of the Pakistan cricket team. Mohammad Hafeez has been appointed as the team director to take care of the Pakistan cricket team. Mickey Arthur and the foreign staff are soon likely to be served with a notice of sacking.
Mickey Arthur who is now known as the king of excuses is counting his days as the key coaching staff of the Pakistan cricket team. His inability to coach saw the men in green put up a bland show in the Asia Cup 2023 and ODI World Cup 2023. Meanwhile, Wahab Riaz will be tasked with selecting the team for the upcoming Australia tour.
Wahab Riaz said, "I am honoured to assume the role of chairperson for the national men's selection committee and I extend my gratitude to Chairman PCB Management Committee, Mr. Zaka Ashraf, for entrusting me with this responsibility. The decision to involve former players in cricketing matters is commendable and I am willing to work for the betterment of Pakistan cricket.
Heading a selection committee is a challenging task. We have a significant Australia tour coming up that is part of the ICC World Test Championship 2023-25 cycle and a T20I series against New Zealand that will allow us to develop a formidable unit leading up to the ICC T20 World Cup in the USA and West Indies in June next year."
Last Updated Nov 17, 2023, 7:23 PM IST