Venkatesh Prasad vs Aamir Sohail: Virat Kohli praises Prasad; says no clean-bowled as satisfying as that
According to Virat Kohli there is no more a satisfying clean-bowled in the history of Indian cricket than Venkatesh Prasad dismissing Aamir Sohail in the 1996 World Cup quarter-final in Bengaluru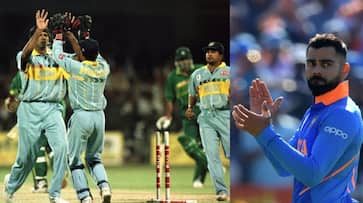 Bengaluru: India captain Virat Kohli has described Venkatesh Prasad's dismissal of Aamir Sohail in the 1996 World Cup quarter-final as the most satisfying clean-bowled in the history of Indian cricket.
The India-Pakistan World Cup quarter-final contest at Bengaluru's M Chinnaswamy Stadium in March 1996 is part of folklore. It was the game that India won to reach the semi-final and more importantly remembered for the on-field altercation between Prasad and Sohail.
Also read: Virat Kohli reveals his honest father refused to pay bribe
In the run chase, Pakistan opener Sohail hit a boundary off Prasad and pointed his bat towards the direction where the ball went and said few words to the Indian paceman. The next ball, Prasad gave a befitting reply, knocking Sohail's off-stump.
Also read: Harbhajan Singh lashes out at Shahid Afridi
On Sunday (May 17), on an Instagram live chat session, Indian football team captain Sunil Chhetri asked Kohli about the match and here is what the Delhi right-hander said.
Chhetri asked Kohli, "Where were you exactly, when Aamer Sohail hit Prasad for a four, trash talked, and then saw his off-stump sent for a cartwheel, right the next ball? This is an iconic moment. Everyone knows about."
Kohli replied, "I was at home. Obviously, an iconic moment. I celebrated then the same way as I celebrate now. There is no more satisfying clean-bowled, at least for us, in the history of cricket. It was an iconic moment."
"That day, not many people in India would forget, regardless if you were a cricket fan or not," Chhetri quipped. He also said that he and his friends enacted the scene several times on that day. "Those memories are golden memories," Kohli added.
Last Updated Oct 26, 2023, 7:12 PM IST