T20 World Cup 2021: David Warner attempts a Cristiano Ronaldo, tries removing Coca Cola bottles (WATCH)
Cristiano Ronaldo had removed Coca Cola bottles earlier this year during a UEFA Euro 2020 press conference. David Warner attempted the same thing during the 2021 ICC T20 World Cup.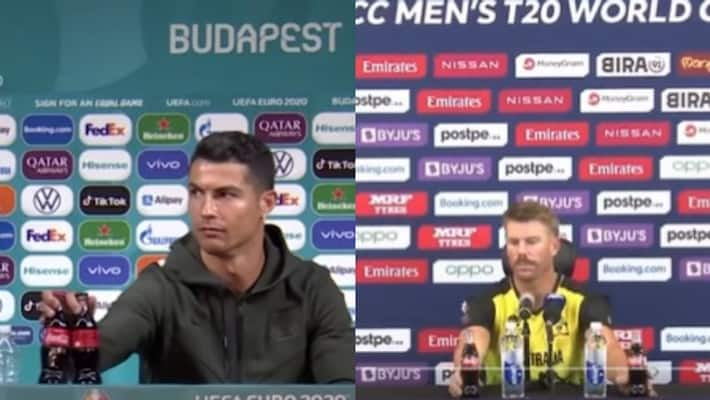 A few months back, Portuguese football sensation Cristiano Ronaldo did an act that got the world talking. During a UEFA Euro 2020 press conference for Portugal, he had removed the official drink sponsor Coca Cola's bottle from the PC table, while he urged people to drink water instead of aerated soft drinks. The move saw Coca Cola on the receiving end, as it reportedly had suffered a loss of $4 billion, a drop of 1.6%.
FULL SCORECARD: ICC T20 World Cup 2021 - Australia vs Sri Lanka (Super 12)
Recently, something similar was done in cricket. During the continuing ICC T20 World Cup in the United Arab Emirates (UAE), Australian opener David Warner tried to remove the Coca Cola bottles placed on the PC table. The soft drink giant is also sponsoring this tournament. As he attempted to do so, he was stopped.
ALSO READ: T20 World Cup 2021, AUS vs SL (Super 12) - David Warner's comeback ensures 7-wicket win for Australia
Warner tried to take the bottle and hide it beneath the table. However, the organisers asked him to place the bottles back on the table. At this point, Warner shared a laugh and jokingly said, "Can I remove these? Though I have to put it there. If it's good enough for Cristiano, it's good enough for me. That's right." He obliged and placed the bottles back in their place before continuing with the PC.
ALSO READ: Cristiano Ronaldo, Georgina Rodriguez to welcome twins soon
Ever since Ronaldo did the deed, many have tied to mock him. While a coach brought in his water bottle during the Euros, French midfielder Paul Pogba removed a Heineken zero alcohol beer bottle. Since being from the Muslim faith, Pogba does not endorse alcohol. Later, the Russian coach also mocked Ronnie by drinking the coke from the bottle during one of the PCs.
Last Updated Oct 29, 2021, 2:10 PM IST