'Sachin Sports' and 'Dhoni Sports': How two Indian cricket icons left a lasting retail legacy in Chennai
Two sports shops, 'Sachin Sports' and 'Dhoni Sports,' named after cricket legends Sachin Tendulkar and Mahendra Singh Dhoni, coexist side by side in Chennai, serving cricket enthusiasts with quality sports products.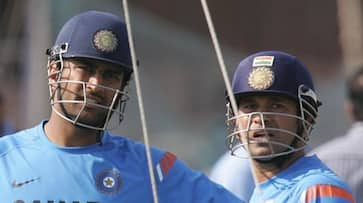 Sachin Tendulkar and Mahendra Singh Dhoni, two cricketing legends, have an interesting presence in Chennai beyond their on-field careers. There are two sports goods and apparel shops named "Sachin Sports" and "Dhoni Sports" situated next to each other on Wallajah Road, opposite the Chepauk stadium. These shops have been serving cricket enthusiasts in Chennai for years.
"Sachin Sports" has been in business since 1998, while "Dhoni Sports" was established in 2016. The proximity of these shops has created a quirky coincidence that reflects the deep reverence and love for these cricketing icons in Chennai.
Syed Naseeruddin Shahbaz, the young owner of "Dhoni Sports," acknowledges Dhoni's immense popularity in Chennai but emphasizes the importance of offering quality products to attract customers. The shop caters not only to match days but also to non-match days, ensuring a steady flow of customers.
"Obviously, Dhoni is huge in Chennai but if your products aren't good enough you won't be able to attract customers. We don't just look at selling sports stuff on match days but more on non-match days when people might flock in," said the national level hockey player in an interview with PTI.
Regarding any potential copyright issues, Shahbaz mentions that Dhoni is aware of their shop's existence but has never visited. He points out that there haven't been any copyright issues, as his family has a long history in the sports business.
"But he has never visited our shop. You can't miss our shop if you are coming in and out of Chepauk. And yes, there are no copyright issues as such. Our family has been in the sports business for years and this is not our first shop," said Shahbaz, who has represented Tamil Nadu and All India Universities (AIU) in multiple Senior National Hockey Championships.
He further stated, "From sub-junior to senior level, I have played eight nationals. I played for Loyola College and from there I made it to the AIU team. I played three senior nationals for Tamil Nadu as goalkeeper. My batchmates were Harjeet Singh, Manpreet Singh and immediate competitor was goalkeeper Krishan Pathak, who is now playing for senior India alongside PR Sreejesh. Me and Krishan were in junior India WC probables. Krishan made the cut and I quit sport soon after."
When asked if an injury ended his career prematurely, Shahbaz said, "No. I didn't have the required support in the right places to go ahead. Also, if you are an outfield player, you tend to have more probability of making the cut."
"My father was a hockey player, and my brother played cricket at a decent level in the state. We are a sports family and this is not just a business for us," he added.
In contrast, "Sachin Sports" has been a part of the Chennai sports scene for even longer. Diwakar, an employee who has worked there since its inception in 1998, proudly shares stories of cricketers like Murali Vijay and Dinesh Karthik purchasing accessories from their shop.
"My owner is not around right now. I have worked in this shop since its inception in 1999," Diwakar told PTI.
The idea likely originated after Sachin's remarkable 155 against Shane Warne on a challenging pitch, an innings highly praised by the cricket legend himself. Additionally, his valiant 136 against Pakistan, played amidst pain and in a losing effort, could have further inspired the concept.
"Sachin knows about our shop. The Indian team bus goes through this road so there is no chance that he doesn't know about our shop. Murali Vijay and Dinesh Karthik have bought accessories (gloves, guards etc) from our shop," Diwakar added.
Shahbaz and Diwakar both concurred that the Indian Premier League (IPL) period witnesses significantly higher immediate sales compared to other times of the year. Interestingly, despite being named after Sachin Tendulkar, the shop's best-selling jerseys come as no surprise, with the Chennai Super Kings (CSK) jerseys featuring their iconic No. 7 topping the charts.
"The World Cup sales haven't yet picked up. Maybe on Sunday, when India plays Australia, things will pick up," Diwakar said.
"Shopping for sports goods isn't like any other retail therapy. Sales are never going to be great on weekday mornings as people have work. It only picks up during evenings. So, I am happy till people coming for matches get to see our shop and then come back to buy sports goods," Shahbaz noted.
Last Updated Oct 6, 2023, 6:31 PM IST