Rohit Sharma's 'wall' advice to under-fire Rishabh Pant
When Rishabh Pant was facing flak, India limited-overs vice-captain Rohit Sharma had given him vital advice. Here is what it was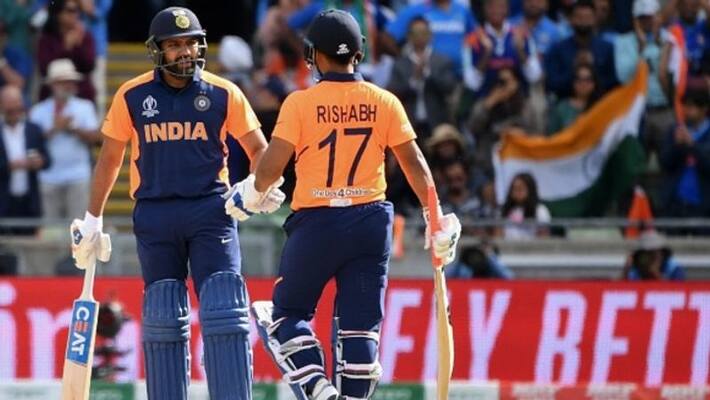 New Delhi: After ending the year 2019 on a high, India's Rohit Sharma has revealed the advice he gave to young wicketkeeper-batsman Rishabh Pant, who was under fire for his poor performances at the international level.
The 22-year-old Pant had a tough time in 2019 when he could not do well both in front and behind the stumps. Fans at stadiums targeted him and began chanting Dhoni's name. This was not liked by captain Virat Kohli who supported the Delhi youngster.
Also read: Shoaib Akhtar on 4-day Test 'conspiracy'
India's limited-overs vice-captain Rohit too had backed Pant during those times. Now, he has spoken about the advice given to the left-handed batsman while facing heaving criticism.
"In fact, I was telling Pant the same thing. Poor guy is only 21 (22) and people are telling him to score hundreds in every game, do this and do that. I mean cut some slack man. I told Rishabh 'Create a wall and ensure that nobody comes inside. It's your safe-house. People want to talk about you, let them do it outside that wall and you do what you intend to do inside your zone'. Who knows it might help Rishabh. It worked for me at least," Rohit told the news agency PTI on Monday (January 6).
In November 2019, during the T20I series against Bangladesh, Rohit was India's stand-in captain after Kohli was rested. Back then, Rohit had said about Pant, "You know there is a lot of talk happening about Pant every day, every minute. I just feel that he needs to be allowed to do what he wants to do on the field. I would request everyone to keep their eyes away from Pant for a while."
"He is a fearless cricketer and we (team management) want him to have that freedom. And if you guys take your eyes off him for some time, it will allow him to perform even better. He is a young guy, trying to make his mark in international cricket. Every move he makes on the field, people start talking about him. It is not fair. I think we should allow him to play his cricket which actually he also wants to do," he added.
Rohit finished the year 2019 with a record 2,422 runs as an opener across the three formats. He would be hoping to continue in the same way in 2020. In the current T20I series against Sri Lanka, Rohit has been rested.
Last Updated Jan 6, 2020, 3:31 PM IST