Ranji Trophy: Snake stops play in Andhra-Vidarbha game in Mulapadu (video)
On the first day of the Ranji Trophy game between Andhra and Vidarbha, a snake entered the ground and delayed the start of the match in Mulapadu, Vijayawada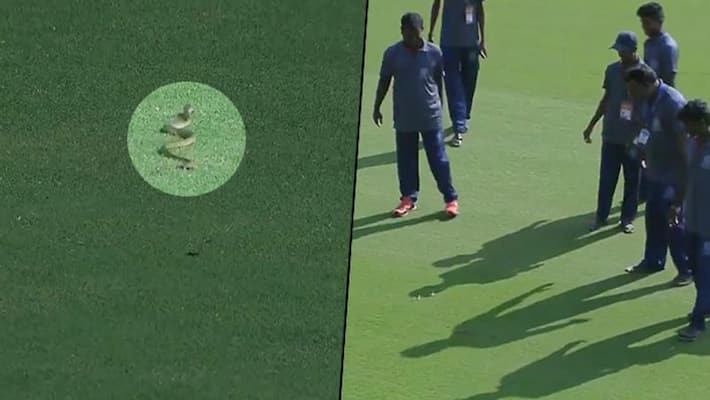 Mulapadu (Andhra Pradesh): A cricket match has been halted for several reasons across the globe. On most occasions, it is rain that plays spoilsport for the gentleman's game. However, there have been instances where even sun had stopped play, a One Day International between India and New Zealand. Now, you need to add a new reason for a match getting delayed. It is because of a snake.
Yes. You read it right. This bizarre incident happened on Monday (December 9) during the first round of the Ranji Trophy 2019-20 matches. The incident was reported from Dr Gokaraju Liala Gangaaraju ACA Cricket Ground, Mulapadu, Vijayawada.
On the first day of the Ranji Trophy game between Andhra and Vidarbha, a snake entered the ground and delayed the start of the match.
The official Twitter handle of the Board of Control for Cricket in India (BCCI) tweeted the video of the same with the caption, "SNAKE STOPS PLAY! There was a visitor on the field to delay the start of the match."
Later, after the snake had left the ground, play resumed. Earlier, Vidarbha had won the toss and elected to field first.
Previously, there have been instances in India where a cricket contest has been stopped due to dogs invading the ground. But, a snake stopping play could be the first time ever heard in the country.
Also, in the past, a Ranji Trophy game in Delhi was halted when a man drove his car onto the ground.
Last Updated Dec 9, 2019, 10:54 AM IST