Ranji Trophy Final: Bizarre scenes in Saurashtra-Bengal contest (Video)
After the Sourav Ganguly-led BCCI failed to plan properly for the Ranji Trophy final, bizarre scenes were witnessed in Rajkot as Saurashtra and Bengal played in the five-day contest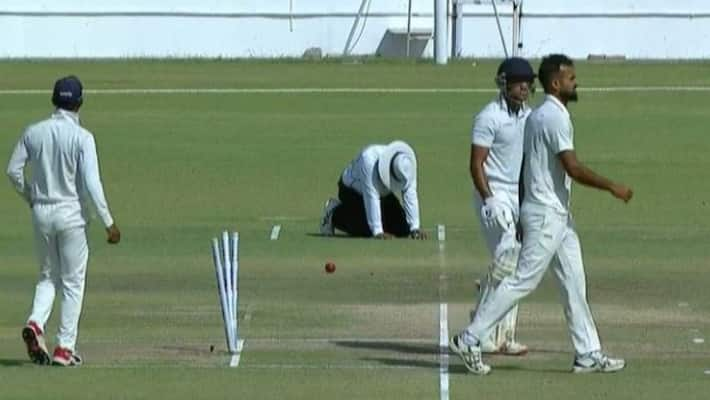 Rajkot: Bizarre scenes were witnessed on the second day of the Ranji Trophy final between Saurashtra and Bengal in Rajkot on Tuesday (March 10). The richest cricket board in the world, BCCI has once again messed up with bad planning.
On Tuesday, umpire KN Ananthapadmanabhan had to officiate from both ends after his on-field colleague Chettithody Shamshuddin was injured on the opening day of the contest.
Shamshuddin was hit by the ball after the fall of a wicket during the Saurashtra innings. He did not return to officiate on the second day. With third umpire Sundaram Ravi in-charge of DRS (Decision Review System) duties, it was left to Piyush Kakkar to do the square-leg umpire duties. Kakkar has not been handed the responsibility of standing as the straight umpire (at the bowler's end).
The official Twitter handle of the Board of Control for Cricket in India (BCCI) tweeted the video of Shamshuddin getting injured. In the same video commentators can be heard saying about Ananthapadmanabhan officiating from both ends.
Umpiring row was not the only one which marred the BCCI's premier domestic tournament's final. After the end of first day's play, Bengal coach and former India batsman Arun Lal slammed the pitch.
Lal said, "(It is a) very poor wicket. The board (BCCI) has to look at things like this. The ball is not coming up. The surface is dusting on the first day. You've got neutral curators, why not send them 15 days before? Imagine, a fast bowler is running in with one slip in the first session of a final, with the knowledge that it won't carry. It could be a disgrace if the ball starts rolling through on the third day, there's a good chance of it happening as well. This isn't the wicket you prepare for a final, involving two sides that have fought hard to finish at the top."
Last Updated Mar 10, 2020, 12:01 PM IST