ODI World Cup 2023: Will India beat Pakistan to clinch 8th WC win? Scientific astrologer predicts (WATCH)
Astrologer Greenstone Lobo has given his unique take on the mouth-watering India vs Pakistan ODI World Cup 2023 clash. He has favored a certain captain but also revealed prediction is tough for this fixture.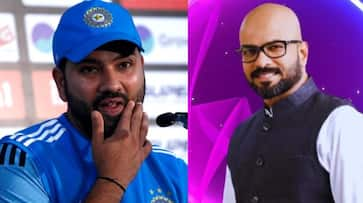 The ODI World Cup 2023 match between India and Pakistan is being watched by billions of people glued to their TV sets. Everyone is eagerly waiting for the outcome of the greatest rivalry in the history of cricket. Popular Astrologer Greenstone Lobo has given his take. 
Greenstone Lobo has revealed that Rohit Sharma has a stronger horoscope than Babar Azam in this tournament. This means that the men in blue have a higher chance of winning the ODI World Cup 2023 than the men in green. 
Also Read: ODI World Cup 2023, India vs Pakistan: Shubman Gill joins the lineup as Rohit Sharma elects to field first
He also predicted that India could meet Pakistan in the World Cup more than once. Chances are high as both teams have started the tournament well and they could face each other in the knockout games especially the final match in November.
In such a case, Astrologer Greenstone Lobo has said that the men in blue are sure to win the fixture that holds utmost importance. If both the teams play against each other twice in this tournament, Indian captain Rohit Sharma also has a higher chance of overcoming arch-rivals Pakistan. 
However, it becomes more difficult to predict today's outcome in a sure-shot manner. This is because the World is witnessing the last day of Shradh which is also known as Mahalaya Amavasya. The day is related to Pitru Paksha and people dedicate the day to their ancestors. It becomes difficult to predict an outcome on this day as a lot of factors are in play in the line of astrology.
Astrologer Greenstone Lobo has already made multiple predictions in the purview of this ODI World Cup 2023. Greenstone Lobo is also a popular figure on social media especially Instagram due to its prediction accuracy.
Last Updated Oct 14, 2023, 2:44 PM IST