ODI World Cup 2023: SL's Angelo Mathews shocked by Bangladesh's time out decision; dubs it 'disgraceful'
Sri Lanka's Angelo Mathews criticized his controversial 'time out' dismissal during the ODI World Cup 2023 clash against Bangladesh on Monday, sparking debate on player safety, adherence to rules, and the spirit of cricket.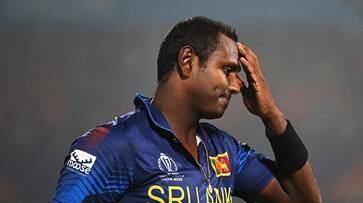 Sri Lankan all-rounder Angelo Mathews criticized Bangladesh's decision to dismiss him via 'time out' as "disgraceful," expressing complete shock at the ruling. The incident occurred during the ODI World Cup 2023 match in New Delhi on Monday where severe air pollution added to the dramatic atmosphere. Mathews became the first batter to be timed out in international cricket, leading to Bangladesh's three-wicket win, officially knocking Sri Lanka out of the tournament.
During the post-match press conference, Mathews voiced his frustration, emphasizing that he hadn't done anything wrong. He attributed the delay to an equipment malfunction with his helmet strap and criticized the lack of common sense in the decision made by Shakib and the Bangladesh team. 
"I haven't done anything wrong. I had two minutes to get ready which I did but there was an equipment malfunction and I don't know where commonsense (had) gone. It was disgraceful from Shakib and Bangladesh," Mathews said.
"If they want to play cricket like that, stoop to that level, it is something wrong drastically. If I got late, past my two minutes and the law says I have to get ready in two minutes, I still had five more seconds to go. It was just pure commonsense, I am not saying (doing) 'Mankading' or obstructing the field here, It is absolutely disgraceful," he added.
Mathews' dismissal marked a new and contentious episode in the ongoing rivalry between the two teams as he became the first player across cricket formats to be timed out. His entry into the match followed Sadeera Samarawickrama's departure on the second ball of the 25th over off Shakib's bowling. However, Mathews encountered a setback when he realized that the strap of his helmet was broken, leading to a delay in getting ready to face the ball within the specified two minutes.
Bangladesh capitalized on this delay and appealed to the umpires, who ultimately upheld their decision despite Mathews' persistent appeals against the dismissal. Post-match, the customary handshake between the two teams was omitted.
"You want to respect people who respect us. We are all ambassadors of this beautiful game. If you don't respect and use your commonsense then what more you can ask for," he said on why Sri Lankan players did not shake hands with their opponents after the match.
"Until today I had utmost respect for him (Shakib) and Bangladesh team, obviously we all play to win and if it is within rules it is fine. But within two minutes I was there...we have video evidence. We will bring out a statement later. I am talking with proof from the time the catch was taken and then I got to the crease," Mathews added.
"We talk about player safety. So, should I have played without my helmet on? So the umpires had a bigger job, they could have checked upstairs. Even wicketkeepers don't open their helmet. It is commonsense. It was complete equipment malfunction. In my 15 years, I have never seen a team going down to this level. Obviously umpires could have checked upstairs (with the TV umpire). I'm not saying that if I would have been there I would have won the match," he said.
"We need to have commonsense, it was clearly a malfunction. I didn't pull it (strap) and break it. I was in complete shock. Unfortunately it happens with Bangladesh. I don't think any other team would do that. Shakib had the option, they knew it was not time wasting. He had the choice (to not approach the umpires) but he decided to go the other way," he concluded.
Shakib Al Hasan, Bangladesh's skipper, defended the decision to appeal, stating that according to the rules, Mathews had not taken guard within the specified time frame, which led to his dismissal. Shakib cited the legality of the action and his adherence to the rules. When asked if he had any regrets about his decision to appeal, he said, "No, not at all. I mean, one of our fielders came to me and said if you go by the law, he's out because he had not taken guard within the time-frame. So then I appealed to the umpire. We played Under-19 World Cup together, so I know Angelo for a long time since 2006. Yeah, I'm better within the rules."
Responding to queries about the incident's alignment with the spirit of cricket, Shakib suggested that if it contradicts the spirit, the ICC should consider rule changes. When asked about Mathews' appeal to withdraw, Shakib expressed understanding but declined to reverse the decision made during the match.
"He came and asked me whether I will withdraw my appeal or not. I said, 'you know, I understand your situation'. It was unfortunate, but I don't want to," the Bangladesh skipper added.
Last Updated Nov 7, 2023, 8:59 AM IST