ODI World Cup 2023: SA's Quinton de Kock admits to being nervous before blazing 174 against Bangladesh
Following his blistering knock of 174 that crushed Bangladesh, South African opener Quinton de Kock revealed he had experienced some pre-match nerves ahead of the ODI World Cup 2023 contest on Tuesday.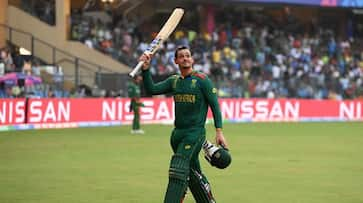 South African opener Quinton de Kock played a pivotal role in a dominant performance against Bangladesh, hammering an imposing 174 in their ODI World Cup 2023 match on Tuesday in Mumbai. De Kock, who confessed to some pre-match nerves, found his form and led South Africa to a resounding 149-run victory, supported by Heinrich Klaasen's explosive 90.
Speaking after the match, de Kock acknowledged his initial nervousness, which is a rare occurrence for him. Despite his century, he admitted to feeling more fatigued than satisfied after his remarkable innings. "I was a bit nervous this morning, don't normally get nervous at all. I had a bit of fun, great to get two points. But I was a bit more tired than satisfied (after the innings)," said de Kock.
He praised Klaasen for his consistently impressive performances, stating, "I need some of the juice he's having. He's been special, for every team he's played for. Taking the tournament by storm."
South African skipper Aiden Markram, who contributed a notable 60, commended both de Kock and Klaasen for their brilliant displays. He highlighted the team's collective effort, emphasizing their ongoing pursuit of strong performances.
"What Quinny did was superb and then Klaasen walks in and smashes it. Everyone approaches it differently but it gels quite nicely. We keep striving to put in big performances," said Markram.
Regarding the absence of pacer Lungi Ngidi, Markram expressed hope that he would recover from his knee niggle in time for the upcoming match against Pakistan. Markram also mentioned the team's objective of becoming proficient at chasing targets, despite their preference for batting first in recent matches.
"The more you win batting first the more you lean that way. But once we get one chase under the belt, and the blueprint, then hopefully, we'll be a good team at chasing," he said.
Bangladesh's captain, Shakib Al Hasan, admitted that the match slipped away from them in the final 10 overs when de Kock and Klaasen unleashed a devastating partnership, amassing 144 runs. "Quinton batted really well, and the way Klaasen finished was something we didn't have any answer to. We should've bowled better. We lost the game in the last 10 overs," said Shakib.
Despite the challenging start to their ODI World Cup 2023 campaign, Shakib remained hopeful, mentioning the team's aspirations to finish the tournament on a strong note, even if a spot in the semifinals appeared elusive. He underlined the importance of learning from their experiences and striving to conclude the competition with pride and determination.
Last Updated Oct 25, 2023, 10:45 AM IST