ODI World Cup 2023: Keshav Maharaj's heartfelt message on social media after thrilling victory over Pakistan
South African cricketer Keshav Maharaj's poignant social media message following a heart-pounding victory over Pakistan in the Cricket World Cup 2023 has taken the online world by storm.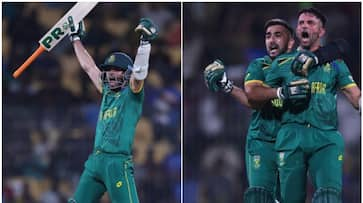 South African cricketer Keshav Maharaj has left a profound mark on social media with a heartfelt message following a sensational win over Pakistan in the Cricket World Cup 2023. Maharaj's pivotal last-wicket partnership with Tabraiz Shamsi and his composed performance secured the victory in a nail-biting match. Taking to Instagram, he expressed his gratitude, saying, "In God I Trust, what a special result by the boys, awesome to see the performances from shamsi90 & aidenmarkram. Jai Shree Hanuman."
South Africa's thrilling one-wicket win over Pakistan in the Cricket World Cup 2023 brought them closer to the tournament's semi-finals. Aiden Markram's impressive 91-run innings had put South Africa in a strong position at 206-4 while chasing a target of 271 runs. However, it was the partnership of Keshav Maharaj and Tabraiz Shamsi that ultimately secured the victory, with Shamsi surviving a crucial leg-before appeal before Maharaj delivered the winning runs. The intense match concluded in 47.2 overs, prompting jubilant celebrations in the South African team's dressing room.
Speaking about the win, Shamsi expressed his happiness, acknowledging the unpredictable nature of cricket. Maharaj, who played a vital role in the partnership, also contributed with the bat, ensuring South Africa's ascent to the top of the tournament table with 10 points from five wins in six matches. Meanwhile, Pakistan, after starting the tournament with two consecutive victories, has suffered four consecutive losses, amassing four points and needing favorable results to secure a spot in the semi-finals.
Also Read: Go to Palestine & fight war against Israel, disappointed fans tell Pakistan players after WC disaster (WATCH)
Last Updated Oct 28, 2023, 5:08 PM IST