Go to Palestine & fight war against Israel, disappointed fans tell Pakistan players after WC disaster (WATCH)
As Pakistan's cricket team faces a series of setbacks in the ICC Men's World Cup 2023, one passionate fan has issued an unconventional plea.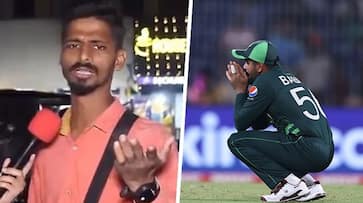 In the wake of Pakistan's underwhelming performance in the ongoing ICC Men's World Cup 2023, an emotional Pakistani national has made an unusual and impassioned plea. Expressing deep disappointment in the national cricket team's showing, this individual has gone to the extreme of suggesting that Pakistani players should redirect their focus away from cricket and instead consider joining the ongoing conflict in Palestine against Israel.
Pakistan's campaign in the 2023 World Cup has indeed been far from satisfactory. The team, led by Captain Babar Azam, has struggled to meet expectations throughout the tournament. Disappointing losses to traditional rivals India and Afghanistan, as well as a setback against South Africa, have left Pakistani cricket enthusiasts disheartened. Out of the six matches played, Pakistan has only managed to secure victories in two, marking a challenging journey in the prestigious cricket event.
Amidst these tribulations, the individual's call to shift their attention to a completely different arena, advocating for involvement in the ongoing geopolitical conflict in the Middle East, certainly stands out as a unique and unconventional response to Pakistan's cricket woes. It underscores the heightened emotions and passionate fanbase that cricket enjoys in Pakistan, as well as the frustration stemming from the national team's underperformance in the World Cup. The call, though extreme, highlights the significant impact that cricket has on the nation's collective consciousness.
Also Read: ODI World Cup 2023: Australia achieves a record-breaking 10-over score in the powerplay against New Zealand
Last Updated Oct 28, 2023, 4:05 PM IST