ODI World Cup 2023: Kane Williamson to miss New Zealand's opening clash against England
New Zealand captain Kane Williamson will miss the opening match of the ODI World Cup 2023 against England as he continues his recovery from knee surgery.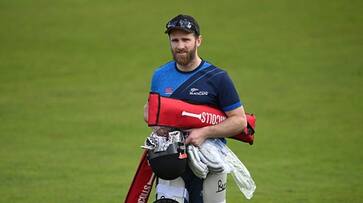 New Zealand's cricket fans will have to wait a bit longer to see their captain, Kane Williamson, in action at the 2023 ODI World Cup. Williamson, who is recovering from knee surgery, is set to miss the opening match against England. However, he is taking gradual steps towards his return, as he is scheduled to play as a specialist batter in New Zealand's warm-up match against Pakistan in Hyderabad on Friday. The goal is for him to be ready to field and bat in their next warm-up game against South Africa in Thiruvananthapuram on Monday.
New Zealand's head coach, Gary Stead, emphasised that the team has been cautious about Williamson's return, taking a long-term perspective on his recovery. "His recovery is tracking well and it's now a matter of making sure he can cope with the rigours and intensity of international cricket. We'll continue to take a day by day approach to Kane's rehabilitation and certainly won't be putting any pressure on him to return before he is ready," Stead said.
Kane Williamson's journey back to competitive cricket has been a significant one. He was sidelined for six months after suffering a ruptured anterior cruciate ligament (ACL) during the opening match of the IPL in 2023, leading to surgery. His rehabilitation process has taken place both in England, alongside the national side, and in India, where he expressed a strong desire to participate in the World Cup warm-up matches.
"It's just wanting to progress [with] what I am doing now - the running, the fielding, and also time in the middle with the bat," Williamson had said ahead of the team's departure to India earlier this week.
"The load is going to keep increasing, so there is a little bit of an unknown. But it has felt pretty good really in the last few weeks, [I'm] hoping it continues to feel like that. But we're definitely looking to touch on more stuff, [and] introducing myself into the game mode, which is something which we haven't had the opportunity to do," he added.
In Kane Williamson's absence, the responsibility of leading the New Zealand team falls to Tom Latham. Latham will not only captain the team in the World Cup opener against England on October 5 in Ahmedabad but will also lead in the two warm-up matches. Meanwhile, Williamson's primary focus remains on regaining full fitness in time for New Zealand's second World Cup encounter against the Netherlands on October 9.
Last Updated Sep 29, 2023, 1:10 PM IST