ODI World Cup 2023: Indian bowling coach indicates no changes in next matches, Shami, Surya set to warm bench
India has an all-performing playing XI which is unique in itself as almost everyone is doing their job right. Indian bowling coach has also suggested that the team is looking to continue their winning combination.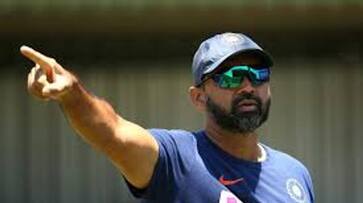 Indian cricket team has been successful in performing according to the aspirations of many in this country. Their shoulders carry the weight of the nation's expectations and so far Indian team has done justice to it in the ODI World Cup 2023.
The starting XI has contributed equally in different matches so far leaving no room for change. Indian bowling coach Paras Mhambrey has also suggested that the Indian team is not looking to ruin the winning combination. The Indian bench strength has the likes of Ravichandran Ashwin, Surya Kumar Yadav, and Mohammed Shami waiting.
Also Read: ODI World Cup 2023: India looks to avoid the season of upsets, Bangladesh desperate for a win
Paras Mhambrey said, "It is important to maintain the start. As of now, there is no discussion of rotation from our point of view. We want to carry this momentum to the next game as well." No team is looking to make many changes in the starting phase of the World Cup.
On Mohammed Shami, Paras Mhambrey said, "Honestly, it is never easy to see. But right now the conversations are on, we had a clear chat with him. Whenever we select a squad the message from us is clear we pick a team we feel is the best for that wicket. Sometimes you will miss out, someone like him is missing out, someone like Ash (Ravichandran Ashwin) will miss out and I think that is the communication we had with him (and) we were very clear."
Indian batsman Surya Kumar Yadav is also on the bench. However, with India's current top-order prowess, Surya Kumar Yadav is less likely to find a place in the playing XI. Paras Mhambrey expressed that it is tough to see Surya Kumar Yadav warming the bench but if an opportunity arises he will get the nod to play.
Last Updated Oct 18, 2023, 5:35 PM IST