ODI World Cup 2023: Australia's Hazlewood defends Marsh on Kohli drop catch in defeat against India
Australian pacer Josh Hazlewood said Mitchell Marsh dropping Virat Kohli early in the run chase did not play a significant role in the defeat against India in their ODI World Cup 2023 opener on Sunday.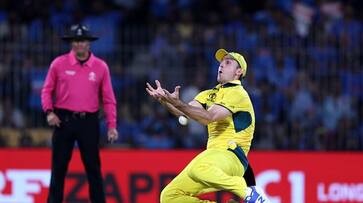 Australian fast bowler Josh Hazlewood downplayed the significance of Mitchell Marsh dropping Virat Kohli early in their ODI World Cup 2023 opener against India in Chennai on Sunday, stating that it didn't have a major impact on the outcome of the match. Kohli's chance came in the eighth over off Hazlewood's bowling when Marsh attempted a catch from mid-wicket. However, wicketkeeper Alex Carey also ran in, causing confusion in the field.
"No, I don't think so (it played a role), it was quite early obviously when that catch was dropped," Hazlewood said at the post-match press conference.
"I didn't think Carey could get there. I think it was Mitch's catch and probably just Carey got quite close in the end so it might have just put Mitch off. Yeah, he dropped a catch, it's one of those things that happens and everyone's training hard and working hard off the field to hang on to them. So, yeah, we'll continue on," he added.
In the match, Indian spinners put pressure on the Australian batsmen in humid conditions at Chepauk, leading to Australia being bowled out for 199. In reply, India lost three wickets for just two runs in the first two overs with Hazlewood picking two. Had Marsh held on to the catch, India could have been in a more precarious position at 20 for four. Kohli was batting on 12 when he got the reprieve.
Discussing Australia's bowling approach, Hazlewood mentioned that the new ball was effective initially before dew made it challenging for them. He felt that the spinners would be difficult to play, even though the conditions were slightly more favorable at night.
"We still felt that new ball was doing enough, whether it was in the air or off the wicket. We knew that spin was going to be tough to play, maybe not as tough as during the day, but still enough to play it. And, we certainly felt in the game for quite a while until obviously the partnership grew and grew and they sort of batted us out of it obviously. And yeah, I thought we did a reasonable job early in particular trying to defend 200. It obviously felt like it probably spun more in the first half. Definitely, the dew came in, but I think early in our bowling innings it was doing enough and it was still dry. The wicket was up and down a little bit so you felt in the game as a quick in particular I think, and then I think it got a little bit better to bat on right towards the end," the Australian pacer added.
Hazlewood praised the Indian bowlers, particularly left-arm wrist spinner Kuldeep Yadav, who took crucial wickets, including that of David Warner. "Yeah, I think he's (Kuldeep) obviously done really well over the last 12 or 18 months. He's always been a good player," he said. 
"We've found him tough to play against. Not often you come up against a left-arm leg spinner with great variations, so it's sort of something that's hard to practice against. And yeah, he's always been a good player to play against, so I think in general the three spinners bowled really well. They're all a little bit different obviously, but they know the conditions really well and bowled accordingly," he added.
Australia's next match is against South Africa in Lucknow, a venue where they haven't played before. Hazlewood concluded by reflecting on the positives that can be drawn from the defeat, emphasizing the need to adapt to varying conditions in different parts of the country.
"Around the country, it's such a big country and the conditions change. And, I think you've got to just land on the ground and try and sum up what you think is the best thing to do first and what's going to happen later on. It's sort of exciting that everywhere is a little bit different I think, and hopefully, we learn from tonight," he signed off.
Last Updated Oct 9, 2023, 10:56 AM IST