MS Dhoni's wife Sakshi explains how IPL 2020 'is being played' in CSK captain's big garden; salutes doctors
'All the (IPL 2020) teams (colours of sunset embraced as one) shake hands. This year IPL has not been played. No team has earned a point therefore all are winners. In the garden, white flowers are prominent. It ends with a gratitude to the white collared warriors,' wrote MS Dhoni's wife Sakshi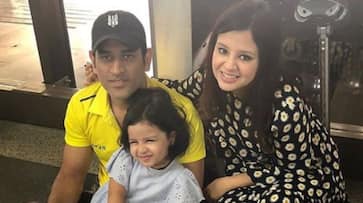 Bengaluru: Due to the coronavirus (COVID-19) pandemic, India is under a lockdown until May 17. All cricket matches including the Indian Premier League (IPL 2020) have been suspended. However, Chennai Super Kings' (CSK) captain MS Dhoni's wife Sakshi Dhoni is seeing IPL being played in their garden.
Read on to find out how beautifully Sakshi explains about IPL 2020 with blooming flowers in their garden in Ranchi.
Watch: Check out MS Dhoni's 7-acre farmhouse in Ranchi
Currently, Dhoni and his family are spending time at their seven-acre farmhouse in Ranchi. Sakshi often shares videos on her Instagram page giving a glimpse of what is happening in their house.
Also read: Gautam Gambhir picks his All-time India Test XI
Recently, Dhoni was seen taking his daughter Ziva on a bike ride inside their massive garden. Now, Sakshi has penned how colourful flowers are giving them IPL 2020 feeling.
Under the title "Explications. IPL Year 2020 played in my Garden", Sakshi said she decided on the colours of all eight IPL franchises with the flowers in Dhoni's garden.
"The colour of the flowers helped in deciding the 8 jerseys. The lush green well mowed lawn gives a feel of a cricket ground. There is profuse flowering at this time. Last week April and early May IPL is at its best. The garden is a motivation in penning down the ideas," she wrote.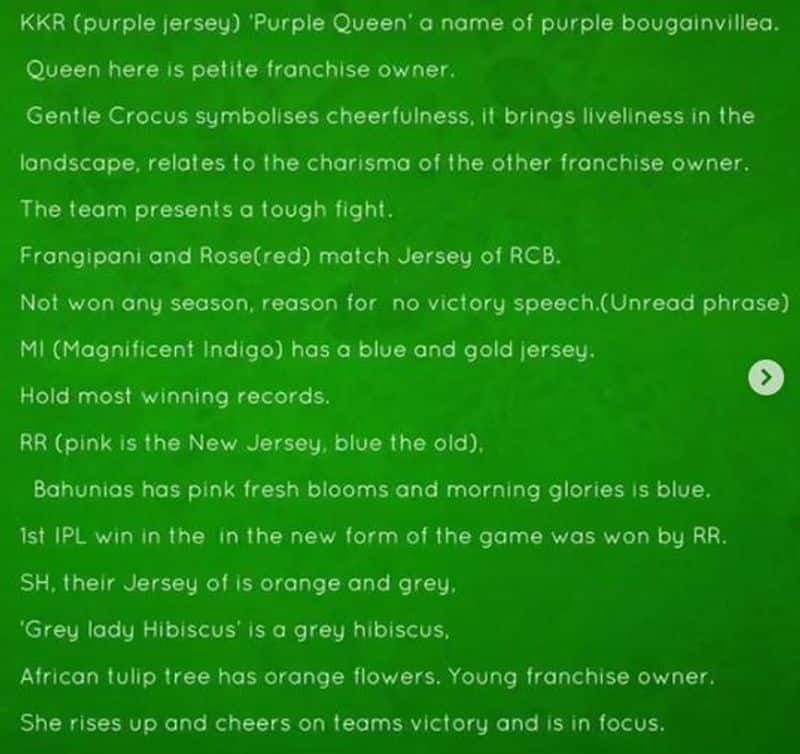 Tecoma and marigolds reminded her of CSK's yellow jersey. "Tecoma and marigolds are yellow flowers, jersey of CSK, fans of the team are like no other."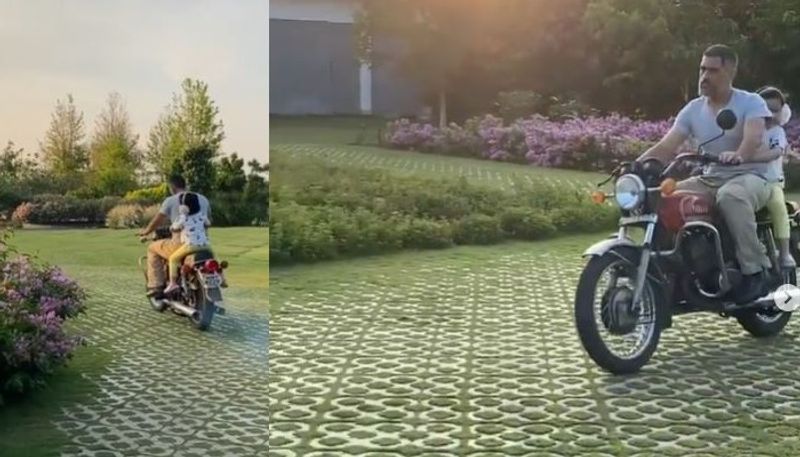 In the end, Sakshi saluted all the doctors who are fighting the coronavirus from the frontline. "All the teams (colours of sunset embraced as one) shake hands. This year IPL has not been played. No team has earned a point therefore all are winners. In the garden, white flowers are prominent. It ends with a gratitude to the white collared warriors."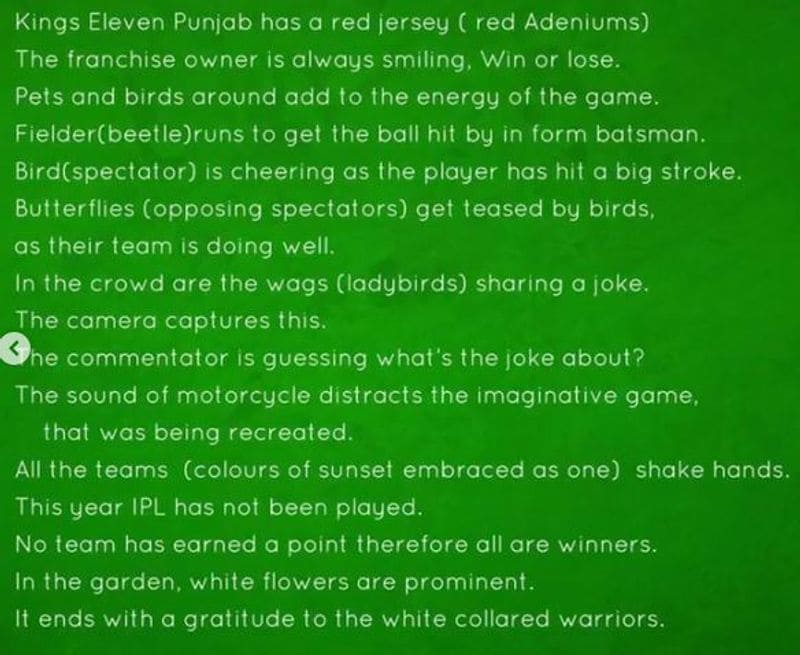 Last Updated May 4, 2020, 5:04 PM IST