Lord Shiva theme to grace Varanasi cricket stadium; damru-like dome, trishul-shaped floodlights and more
Prime Minister Narendra Modi will inaugurate a Rs 450 crore international cricket stadium in Varanasi on September 23. According to reports, the proposed stadium will be based on Lord Shiva theme.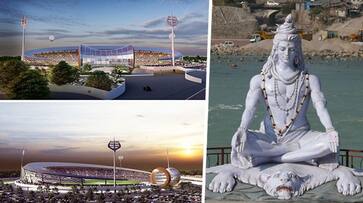 Varanasi, a city known for its rich cultural heritage and spiritual significance, is about to add another jewel to its crown – an international cricket stadium that blends modern sports with the essence of Kashi. The proposed international cricket stadium at Ganjari is expected to not merely be a sporting venue, but a testament to the city's devotion and reverence for Lord Shiva.
According to multiple reports, the stadium's facade will bear features reminiscent of Kashi and Lord Shiva, creating a unique fusion of spirituality and sports. Among these architectural elements, the roofs will resemble the crescent that crowns Lord Shiva, and the floodlights will take the form of tridents.
"Galleries will be styled like Kashi's ghats," Kaushal Raj Sharma, the divisional commissioner, told TOI. This design choice pays homage to the city's iconic riverfront steps that lead devotees down to the sacred Ganges River.
He further stated that the stadium will feature huge motifs of 'bilva patra' (leaves sacred to Lord Shiva) in metallic frames, adding to its spiritual ambiance. The pavilion and VIP lounge will be shaped like the 'damru,' the distinctive pellet drum often associated with Lord Shiva.
The grand inauguration of this Rs 450 crore international cricket stadium is scheduled for September 23, with none other than Prime Minister Narendra Modi set to do the honours. The stadium boasts modern facilities and an impressive seating capacity of 30,000, ensuring that it can host international cricket matches in style.
The event promises to be a star-studded affair, with prominent cricketers and officials from the Board of Control for Cricket in India (BCCI) and the UP Cricket Association expected to grace the occasion. Beyond cricket, the inauguration ceremony will also feature performances by some of the finest artists as part of the ongoing Kashi Saansad Sanskritik Mahotsava, celebrating the city's vibrant cultural heritage.
As Varanasi's international cricket stadium takes shape, it is poised to become a symbol of the city's enduring blend of tradition and modernity. It encapsulates the spirit of Varanasi, where sports and spirituality seamlessly unite, offering a unique and enriching experience for both cricket enthusiasts and devotees of Lord Shiva.
Last Updated Sep 20, 2023, 12:39 PM IST