'Laid-back' Rohit Sharma best man to lead India to 3rd World Cup title, believes Ricky Ponting
Legendary Australian cricketer Ricky Ponting discusses India's prospects to win ODI World Cup 2023, under the captaincy of Rohit Sharma, and stated, "I think they are going to be the team to beat."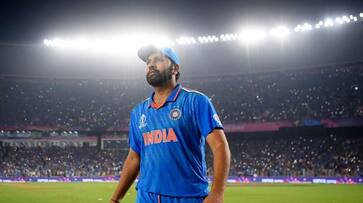 Renowned Australian cricketer Ricky Ponting believes that Rohit Sharma's "laid-back" demeanor makes him the perfect captain to lead India to their third ODI World Cup 2023 title, particularly in their home country, following their 2011 triumph. India has made an impressive start to their World Cup campaign, securing convincing wins in their initial matches. In their tournament opener, the Men in Blue defeated Australia by six wickets, and they followed that with emphatic eight and seven-wicket wins over Afghanistan and Pakistan, placing them at the top of the points table.
"He's very laid back, Rohit. Very laid back with everything he does. You can even see that by the way that he plays. He's a pretty laconic sort of batsman as well, and that's the way he is both on and off the field," Ponting told the ICC on Tuesday.
Rohit Sharma took over the captaincy from Virat Kohli in white-ball formats in December 2021. Ponting commends Rohit's laid-back personality, both on and off the field, which, in his view, is well-suited for the role of leading the Indian cricket team. This allows Virat Kohli to focus on his batting while Rohit manages the captaincy.
"Someone like Virat, who is a bit more heart-on-the-sleeve, and probably listens to the fans and plays up with the fans a little bit more, someone with his personality would probably find it a bit harder," the two-time World Cup winning Australia skipper said. "But I think Rohit will be fine with it. He's a terrific bloke and has been a great player for a long time, and he's done a great job as leader of India."
India last won the World Cup when the tournament was jointly hosted by India, Sri Lanka and Bangladesh in 2011. Ponting acknowledges that playing a World Cup in front of home fans adds extra pressure, but he believes that Rohit Sharma is well-equipped to handle it.
"We can't sit back and say that the pressure won't get to them (India) at some stage, or it won't affect them, because it will, just with the enormity of the tournament. But he'll (Rohit) take it and cope with it as well as probably anyone," he said.
Ricky Ponting considers India as the team to beat in the ongoing World Cup, emphasizing their talented squad and well-rounded capabilities in fast bowling, spin, and their top-order and middle-order batting. However, he also points out that they will face significant pressure and challenges as the tournament progresses.
"I said from the start that I think they're going to be the team to beat. They've got a very talented team," he said. 
"They've got all bases covered with their fast bowling, their spin and their top-order, middle-order batting. They're going to be extremely hard to beat. But we'll see how they hold up under extreme pressure as well," Ponting concluded.
India will next play Bangladesh in Pune on Thursday.
Last Updated Oct 17, 2023, 11:02 AM IST