IPL 2020: Virat Kohli's childhood coach Rajkumar Sharma says 'Kohli is only human and not a machine'
Rajkumar Sharma, Virat Kohli's childhood coach supports Kohli after the criticism followed due to his poor performance in the match against KXIP. He says that it is the part and parcel of the game.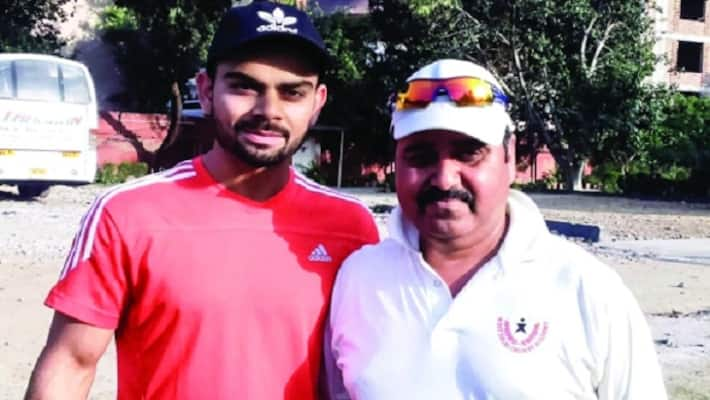 Virat Kohli has faced a lot of heat after Royal Challengers Bangalore (RCB) lost to Kings XI Punjab (KXIP) by a whopping margin of 97 runs. Social media was nearly flooded with criticisms for Kohli being a failed captain, poor batsman, and many other demeaning comments that tarnished the skipper's image. It was then his childhood coach, Rajkumar Sharma, who has backed the RCB skipper in this turbulent time.
He very well reiterated that each player has his share of good and bad days on the field. The problem surfaces when people are soon blindfolded by the sudden failures, blemishing his glories that the former made for himself and the team. He emphasized that since Kohli has raised his performance mark so much, that a little droop becomes unacceptable for the fans.
"It is just a part and parcel of a sportsman's life. You have good days and you have bad days on the pitch. It is just that Kohli has set such a benchmark that people forget he is only human and not a machine. You are bound to have off days and there is nothing wrong with it. People will ask if there is some technical issue or a mindset issue, but I will again say that it is a part of the game," Rajkumar was quoted as saying by Business World.
Talking of the two easy dropped catches of KL Rahul in Thursday's match, he said "Firstly, like I said before, these things happen. Anybody can miss a catch or two. Even Jonty Rhodes missed a catch here and there. Javed Miandad was considered a great fielder and if you go back and look, he also did slip once or twice.So, this has nothing to do with patience or the urge to set the tone after the resumption of cricket."
Giving Kohli ever-lasting hope, his childhood coach said, "It is just a bad day on the field, which can happen to even the best. He has played enough cricket to come back strongly and lead from the front."
Fans wish to see Kohli in his dazzling style in their upcoming match against Mumbai Indians (MI) on Monday. 
Last Updated Sep 27, 2020, 6:11 PM IST