IPL 2020 schedule: Here are Virat Kohli-led RCB's full fixtures
Here is Royal Challengers Bangalore's (RCB) full schedule for IPL 2020 in the UAE. The Virat Kohli-led RCB face Sunrisers Hyderabad on September 21 in their first match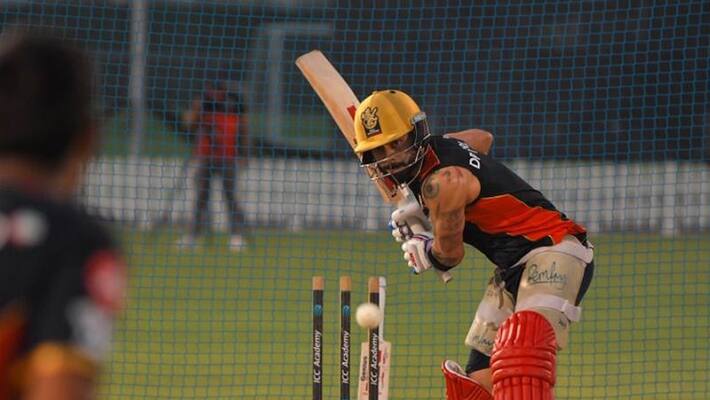 Bengaluru: The Board of Control for Cricket in India (BCCI) has released the fixtures for IPL 2020 to be played in the UAE from September 19 to November 10.
The cash-rich Twenty20 league will get underway with defending champions Mumbai Indians (MI) locking horns with Chennai Super Kings (CSK) in Abu Dhabi in an evening game.
IPL 2020 was shifted from India due to the coronavirus (COVID-19) pandemic. The tournament's format has not been changed and teams will play in the usual home and away format.
Also read: CSK's schedule for IPL 2020
The Virat Kohli-led Royal Challengers Bangalore (RCB) open their campaign against Sunrisers Hyderabad (SRH) in Dubai on September 21 at 7.30 PM IST (6 PM UAE Time).
Here is RCB's full schedule for IPL 2020.
Match 1: September 21 (7.30 PM IST) — Dubai: RCB vs Sunrisers Hyderabad (SRH)
Match 2: September 24 (7.30 PM IST) — Dubai: RCB vs Kings XI Punjab (KXIP)
Match 3: September 28 (7.30 PM IST) — Dubai: RCB vs Mumbai Indians (MI)
Match 4: October 3 (3.30 PM IST) — Abu Dhabi: RCB vs Rajasthan Royals (RR)
Match 5: October 5 (7.30 PM IST) — Abu Dhabi: RCB vs Delhi Capitals (DC)
Match 6: October 10 (7.30 PM IST) — Dubai: RCB vs Chennai Super Kings (CSK)
Match 7: October 12 (7.30 PM IST) — Sharjah: RCB vs Kolkata Knight Riders (KKR)
Match 8: October 15 (7.30 PM IST) — Sharjah: RCB vs KXIP
Match 9: October 17 (3.30 PM IST) — Dubai: RCB vs RR
Match 10: October 21 (7.30 PM IST) — Abu Dhabi: RCB vs KKR
Match 11: October 25 (3.30 PM IST) — Dubai: RCB vs CSK
Match 12: October 28 (7.30 PM IST) — Abu Dhabi: RCB vs MI
Match 13: October 31 (7.30 PM IST) — Sharjah: RCB vs SRH
Match 14: November 2 (7.30 PM IST) - Abu Dhabi: RCB vs DC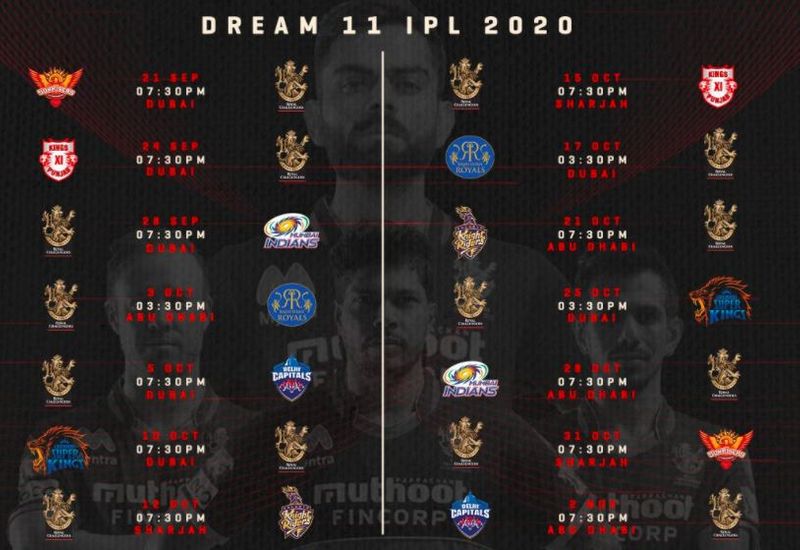 Last Updated Sep 6, 2020, 6:08 PM IST