IPL 2020: KKR's Andre Russell and Sunil Narine land in UAE
Andre Russell lit IPL 2019 with his explosive hard-hitting abilities and rescuing KKR on many occasions. Sunil Narine continues to confuse batsmen with his mystery spin, along with his quickfire opening batting.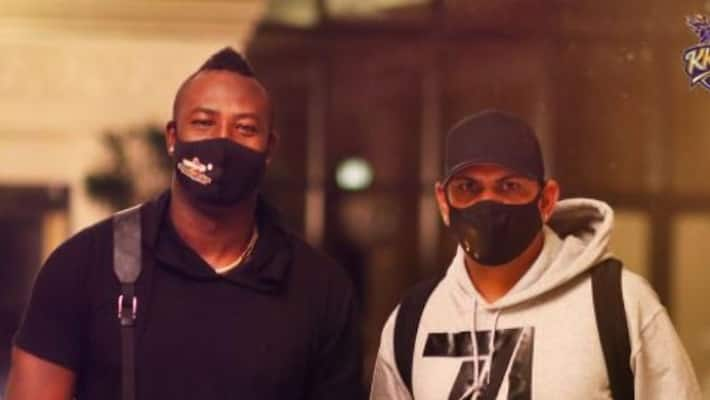 The Kolkata Knight Riders (KKR) are one of the most fan-favourite sides in the IPL. Although it gains its supreme popularity owing to the fact that it is owned by Bollywood superstar Shah Rukh Khan, the team has also bolstered some fine players, over the years, who have entertained fans, while they also won the title on a couple of occasions.
To date, there are some players who are still a part of the side since the twin title-winning campaigns. One such player is their mystery spinner, Sunil Narine. He has been well known to trouble the batsmen with his lethal, but most importantly, his unpredictable spin. Capable of spinning the ball both ways, batsmen are yet to decode what makes him such a fine spinner.
Not just with the ball, Narine, of late, has also made his name with the bat. Known for giving flawless starts, Narine has become a surprise opening package among the batsmen in the side, giving an explosive start and setting the platform for the incoming batsmen to score big.
ALSO READ: IPL 2020: Watch Shikhar Dhawan brutalising Ravichandran Ashwin with a sublime six
Other than Narine, there is a player more who has become a big draw in the IPL and that's dangerous all-rounder Andre Russell. Known for his combustible batting, Russell can hit hard all over the park and can change the course of the game in no time.
Besides, Russell is also highly impactful with his pace bowling. This also made him one of the most picked players in the fantasy leagues last season. There is no doubt he would look to impress once again this season.
Following a healthy outing in the just-concluded Caribbean Premier League (CPL), both men have landed in the United Arab Emirates (UAE) to make IPL 2020 great, as we wish them good luck.
Last Updated Sep 14, 2020, 1:57 PM IST