IPL 2020 auction guide: Players' list, important numbers, date, start time, live streaming, TV information
Here is your complete guide to IPL 2020 players' auction which will be held in Kolkata on December 19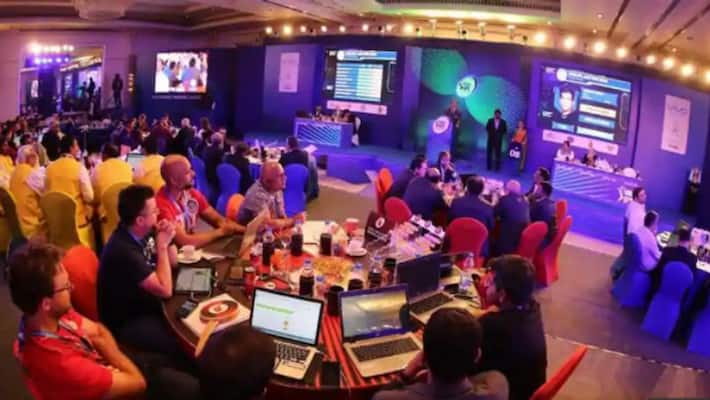 Kolkata: It is that time of the year to put the hammer down. It is the Indian Premier League (IPL) players' auction. Even though this is a mini auction, the excitement among fans is palpable.
On December 19 (Thursday), Kolkata will host the IPL 2020 auction proceedings. The players' shopping will be in new BCCI president Sourav Ganguly's hometown. This is the first time 'City of Joy' is hosting IPL auction.
Also read: Delhi Capitals coach Ricky Ponting speaks on big money players
Asianet Newsable brings to you all the numbers that matter for the big day.
Here is your complete guide to IPL 2020 players' auction
3.30 PM IST – Start time of IPL 2020 auction
332 players will go under the hammer at IPL 2020 auction
Also read: Final list of players for IPL auction
997 players had initially registered for auction
73 (29 overseas) spots are available to be filled by the eight IPL teams
12 (6 overseas) – The highest number of slots to be filled by one team. It is Royal Challengers Bangalore (RCB)
20 – The number of players with Chennai Super Kings (CSK) before the auction. They have the largest assembled squad after the player retentions last month
5 – The number of slots to be filled by CSK, the least among all eight teams
Rs 680 crore – The total amount to buy players for all eight franchises
Rs 472.35 crore – The total amount of money spent by all eight teams before the auction
Rs 207.65 core – The total amount of money available for all eight teams at the auction
Rs 85 crore – The available purse for each team. Already teams have retained players and deducted. The remaining purse will be used at the auction table
Rs 42.70 crore – The highest purse available with one team. Kings XI Punjab (KXIP) have the maximum purse to shop at the auction. They need to fill 9 slots
127 (35 overseas) players were retained by all eight teams ahead of the auction
186 Indian players are there in the auction
143 overseas players
13 capped Indians
173 uncapped Indians
3 players from associate nations
48 – The age of leg-spinner Pravin Tambe, the oldest player in the auction
14 – The age of Noor Ahmad (Afghanistan), the youngest player in the auction. He is a slow left-arm chinaman bowler with a base price of Rs 30 lakh. He has played one first-class game, seven Twenty20s and also Under-19 Youth ODIs
Rs 2 crore is the highest base price for a player
7 players (Pat Cummins, Josh Hazlewood, Chris Lynn, Mitchell Marsh, Glenn Maxwell, Dale Steyn and Angelo Mathews) are with the highest reserve price
0 — The number of Indians in Rs 2 crore base price list
1 — The number of Indians in Rs 1.5 crore base price list. Former Kolkata Knight Riders (KKR) batsman Robin Uthappa is in this bracket
10 (9 overseas, 1 Indian) — The number of players in Rs 1.5 crore base price list
23 (20 overseas, 3 Indians) — The number of players in Rs 1 crore base price list
16 (all overseas) — The number of players in Rs 75 lakh base price bracket
78 (69 overseas, 9 Indians) — The number of players with Rs 50 lakh base price
Rs 20 lakh - The starting base price for a player at the auction. There are 183 uncapped cricketers in this category
Live streaming on Hotstar
Live TV – Star Sports network
List of capped players as per their base price
| | | | |
| --- | --- | --- | --- |
| Base Price (INR) | Total | Indians | Overseas |
| 2 Crore | 7 | - | 7 |
| 1.5 Crore | 10 | 1 | 9 |
| 1 Crore | 23 | 3 | 20 |
| 75 Lacs | 16 | - | 16 |
| 50 Lacs | 78 | 9 | 69 |
 List of uncapped players as per their base price
| | | | |
| --- | --- | --- | --- |
| Base Price (INR) | Total | Indians | Overseas |
| 40 Lacs | 7 | 1 | 6 |
| 30 Lacs | 8 | 5 | 3 |
| 20 Lacs | 183 | 167 | 16 |
Purse available for each team, squad strength and more
| | | | | | | |
| --- | --- | --- | --- | --- | --- | --- |
| Franchise | No. of Players | No. of Overseas Players | Total  money spent (Rs.) | Salary cap available (Rs.) | Available slots | Overseas slots |
| Chennai Super Kings (CSK) | 20 | 6 | 70.40 cr | 14.60 cr | 5 | 2 |
| Delhi Capitals (DC) | 14 | 3 | 57.15 cr | 27.85 cr | 11 | 5 |
| Kings XI Punjab (KXIP) | 16 | 4 | 42.30 cr | 42.70 cr | 9 | 4 |
| Kolkata Knight Riders (KKR) | 14 | 4 | 49.35 cr | 35.65 cr | 11 | 4 |
| Mumbai Indians (MI) | 18 | 6 | 71.95 cr | 13.05 cr | 7 | 2 |
| Rajasthan Royals (RR) | 14 | 4 | 56.10 cr | 28.90 cr | 11 | 4 |
| Royal Challengers Bangalore (RCB)  | 13 | 2 | 57.10 cr | 27.90 cr | 12 | 6 |
| Sunrisers Hyderabad (SRH) | 18 | 6 | 68.00 cr | 17.00 cr | 7 | 2 |
| Total | 127 | 35 | 472.35 crore | 207.65 crore | 73 | 29 |
Take a look at all the eight squads ahead of the auction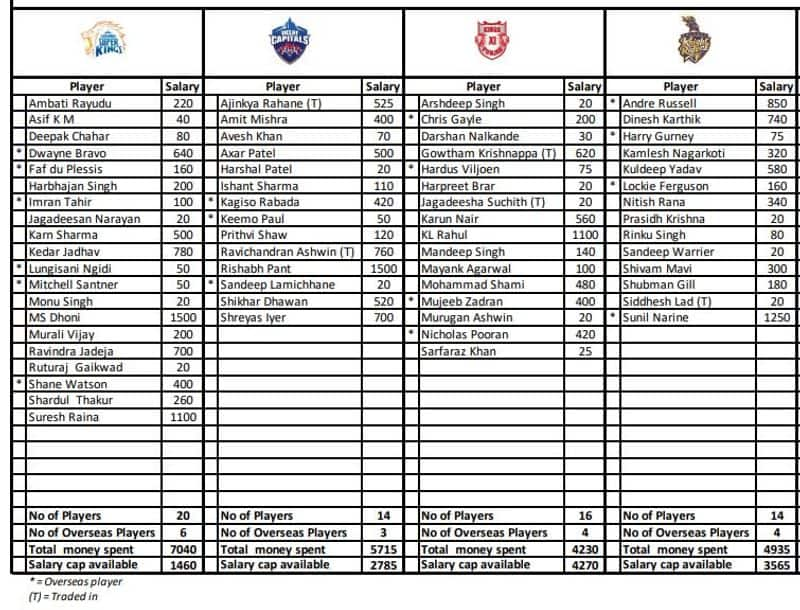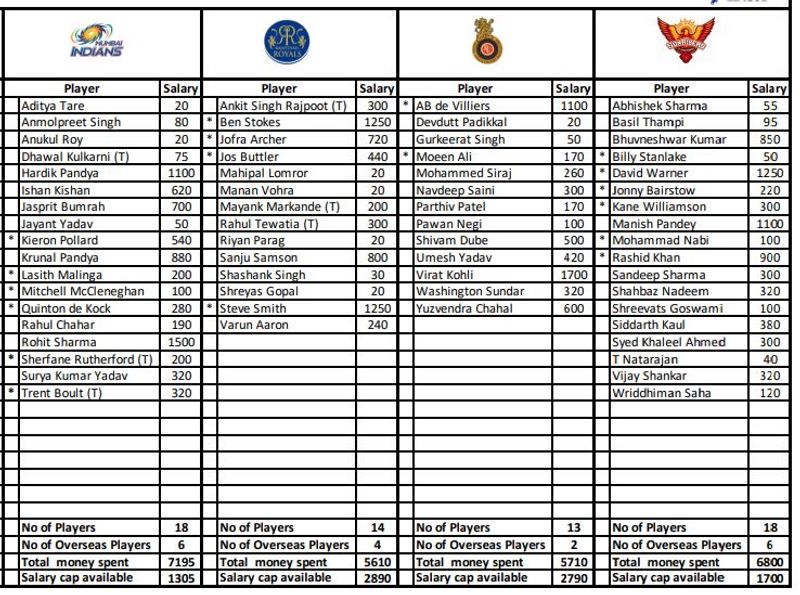 Last Updated Dec 19, 2019, 11:36 AM IST