IPL 2019 RCB vs MI: Here are road diversions, parking spaces around Chinnaswamy stadium
Royal Challengers Bangalore will face Mumbai Indians on their home turf at Chinnaswamy Stadium tomorrow (March 28) at 8 PM. Here is a list of places where you can park in you find yourself near the KSCA on Thursday evening and the routes you can take to get there.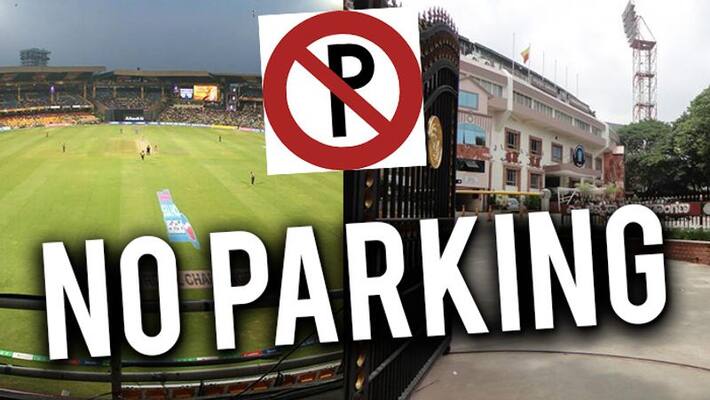 Bengaluru: Royal Challengers Bangalore (RCB) will face Mumbai Indians (MI) on March 28 in Chinnaswamy Stadium. After a first-game loss, RCB will look to bounce back in style and claim their authority on their home ground.
RCB fans eagerly await the first IPL match of the season in Bengaluru with thousands of tickets already sold. The police and transport authorities have made necessary arrangements to park vehicles and will divert traffic and and ban entry of vehicles on certain roads.
Here are what commuters need to know ahead of the RCB-MI match in Bengaluru
March 28: Parking from 2PM to 11:30PM
For public
1) St Joseph's Indian High School grounds
2) UB City
3) First floor of Shivajinagar Bus Station

For KSCA staff/members
1) Bowring Institute
2) St Joseph's (European) Boy's School grounds on Museum Road

For officials on special duty
In front of KGID Office
Authorities have encouraged spectators to avail BMTC buses or us the Metro to avoid a traffic jam around Chinnaswamy Stadium. Pre-paid auto service is also available on MG Road.

Best route options (gate-wise)
1. Gate No 1 to Gate No 6 – Cubbon Road
2. Gate No 7 to Gate 11 on Link Road – Anil Kumble Circle and BRV Circle
3. Gate No 12 to 21 –Queens Road

No entry of vehicles
March 28: Vehicles banned from 2 PM to 11:30 PM

1) Queens Road -Balekundri Circle to Queens Circle on both sides
2) MG Road - Anil Kumble Circle to Queens Circle
3) Link Road - MG Road to Cubbon Road
4) Raj Bhavan Road, T Chowdiah Road and Race Course Road
5) Central Street Road
6) CTO Circle to Dickenson Road Junction
7) Kamaraj Road Junction to Dickenson Road Junction (only BMTC buses allowed here)
8) St Mark's Road - Cash Pharmacy Junction to Anil Kumble Circle
9) Museum Road - MG Road to St Mark's Road up to Ashirvadam Circle
10) Kasturba Road - Queen's Circle to Hudson Circle
11) Mallya Hospital Road - Siddalingaiah Circle to RRMR Circle
12) King Street (inside Cubbon Park), in front of the Press Club, Bal Bhavan, Fountain Road
13) Lavelle Road - Queens Road to Vittal Mallya Junction
13) Vittal Mallya Road - Siddalingaiah Circle to St Mark's Road up to Bishop Cotton Girl's school

Ban on autorickshaws
Autorickshaws are banned from 5 PM to 11:30 PM on March 28 on the following roads
1) Queens Road- Traffic Headquarters Junction to Queens Road
2) Cubbon Road - BRV Junction to CTO Circle
3) MG Road - Anil Kumble Circle to Queens Road Circle
Last Updated Mar 27, 2019, 8:04 PM IST