India vs Australia World Cup 2023 final: Can Men in Blue overcome the Richard Kettleborough 'jinx'?
Ahead of the ODI World Cup 2023 final clash between India and Australia in Ahmedabad on Sunday, Indian fans have expressed concern over umpire Richard Kettleborough officiating yet another crucial game involving the Men in Blue.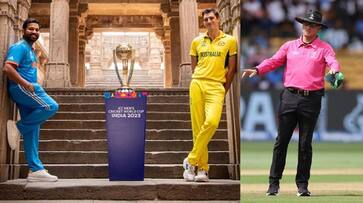 The ODI World Cup 2023 final between India and Australia, eagerly awaited, is scheduled to take place at the Narendra Modi Stadium in Ahmedabad on Sunday. However, Indian fans harbour a sense of concern due to the International Cricket Council's (ICC) decision to designate Richard Illingworth and Richard Kettleborough as on-field umpires.
The ICC revealed this decision on Friday night, just two days before the highly anticipated showdown. Richard Kettleborough, one of the appointed umpires, is no stranger to World Cup finals, having officiated in the 2015 edition's decisive match between Australia and New Zealand.
Also read: ODI World Cup 2023: Rohit Sharma shares insights on India's potential 'Playing XI' for the all important final
Richard Kettleborough's upcoming role as an on-field umpire in the ICC tournament knockout match involving India is not his first, adding to the concerns of Indian fans. Out of India's eight knockout matches in various ICC events since the 2013 Champions Trophy, Kettleborough has been part of the umpires' panel in seven.
Kettleborough has previously served as the on-field umpire in five crucial India matches, including the 2014 T20 World Cup final against Sri Lanka, the 2015 World Cup semi-final against Australia, the 2017 Champions Trophy final against Pakistan, and the 2019 World Cup semi-final against New Zealand. Additionally, he took on the role of TV umpire in the two World Test Championship finals that India lost to New Zealand and Australia.
On the other hand, Richard Illingworth has been the on-field umpire in three of India's last eight ICC knockout matches, contributing to the experienced umpiring duo for the upcoming World Cup final.
Both Illingworth and Kettleborough boast extensive experience, having been promoted to the ICC International List in November 2009. They are recipients of the prestigious David Shepherd Trophy, awarded to the ICC's Umpire of the Year. Kettleborough achieved this accolade three consecutive times from 2013 to 2015, while Illingworth secured the same honor in 2019 and 2022.
Also read: India vs Australia: Clash of the Titans will decide the ultimate champion of the World
Notably, both umpires officiated as on-field umpires during the recent semi-finals. Illingworth was in charge of overseeing India's victory over New Zealand in Mumbai, while Kettleborough played a crucial role in officiating Australia's win against South Africa in Kolkata.
India vs Australia WC Final
Third Umpire: Joel Wilson
Fourth Umpire: Chris Gaffaney
Match Referee: Andy Pycroft
Last Updated Nov 18, 2023, 7:55 PM IST