T20 World Cup 2021: Quinton de Kock's apology leaves Michael Holding confused
Quinton de Kock agreed to take the knee in support of the Black Lives Matter movement during the 2021 ICC T20 World Cup after initial reluctance. While he apologised for the same, it has confused Michael Holding.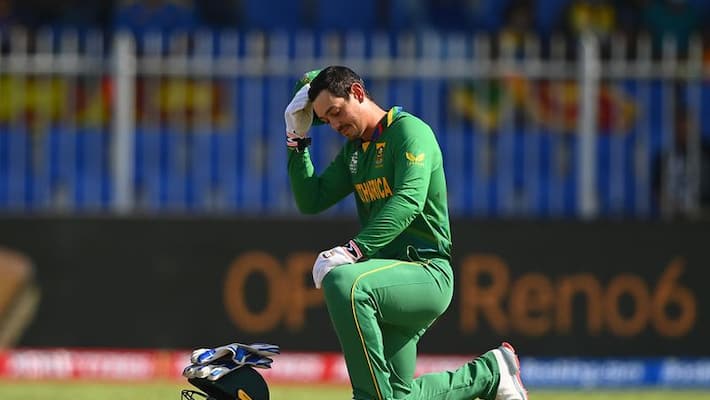 South African wicketkeeper-opener Quinton de Kock stirred a controversy after he decided not to take the knee in support of the Black Lives Matter (BLM) during the ICC T20 World Cup 2021, being held in the United Arab Emirates (UAE). However, it immediately stirred controversy, as he had to be dropped for the game against the Windies.
ALSO READ: T20 World Cup 2021: Quinton de Kock issues apology, pledges to take the knee
As he was targetted on social media, both for and against, he later apologised and announced that he would take the knee. He did the same on Saturday's match against Sri Lanka, eventually gaining everyone's respect back. However, the initial reluctance, followed by the apology, has confused former Windies bowling legend Michael Holding.
ALSO WATCH: Black Lives Matter - SA's Quinton de Kock refuses to take the knee; here's how the cricketing world reacted
"
Speaking to Herald and The Age, Holding said that he was confused if de Kock realised now what's being done is real, or did he have no clue that it was being done for good and the betterment of the sport, or he did not give it much of importance. He reminded de Kock that this thing has been going on for some time now across sports and should not be something new to him.
ALSO READ: T20 World Cup 2021: Temba Bavuma shocked at Quinton de Kock's decision to not take knee
Holding further added that the entire world has accepted the stance, while he was surprised that de Kock was possibly taking it upon him to think if it can be done in some other way. He reckoned that if an action supports a distinct movement, one should participate in the act if they believe in it, and vice-versa.
ALSO READ: T20 World Cup 2021, SA vs WI: Quinton de Kock marks himself unavailable after CSA's 'take the knee' directive
Holding figured that de Kock deserves a second chance, while his actions would indicate whether he is into it or not, and he won't be able to hide his feeling for long. While it would be a wait-and-see situation for de Kock, Holding feels that the South African made a mistake trying to change his vision on the issue.
Last Updated Oct 30, 2021, 9:40 PM IST