Glenn Maxwell's historic 40-ball century rewrites ODI World Cup records - (WATCH)
Australian star Glenn Maxwell achieved a historic milestone in ODI cricket, smashing the fastest-ever century in ODI World Cup history with a breathtaking 40-ball innings against the Netherlands.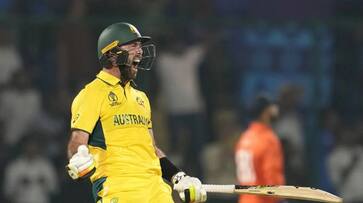 In a stunning display of power-hitting, Australian star Glenn Maxwell rewrote the record books by achieving the fastest century in ODI World Cup history, taking just 40 balls to reach the milestone in a Cricket World Cup match against the Netherlands. This remarkable feat surpassed the previous record held by Aiden Markram, who achieved a century in 49 balls during the 2023 edition of the tournament. Maxwell's performance also marked the fourth-fastest century in ODI history, with AB de Villiers holding the record for the fastest century in just 31 balls against the West Indies in 2015. Maxwell's explosive innings, which included nine fours and eight sixes, played a pivotal role in Australia's commanding total of 399 for eight. His phenomenal achievement has etched his name in the annals of cricket history, making it the fastest century in World Cup history.
"Feels pretty good, I was not feeling well, wasn't expecting much today, cleared my head. The situation when Davey and Greeny got out, had to rein myself in," Maxwell said after his supreme effort.
"Patty was good as well. Even if they are banging it into the wicket, I feel I have enough time to go after it. And when they are bowling quick, my hands have to be faster. Just generally try to get it over the infield. They were outstanding (Netherlands fielding), they saved certain boundaries in the first 25 overs. It was a rock-hard outfield and they did so well. The ball seems to travel here, hopefully we get through the top order and put pressure on their middle order. Also put run-rate pressure. Nice to have the kid here - it's been a while."
Also Read: Top 10 Fastest Centuries in ODI Cricket
Last Updated Oct 25, 2023, 10:20 PM IST