From food delivery executive to ODI World Cup 2023 net bowler: Remarkable journey of Chennai's Lokesh Kumar
The article discusses the upcoming Cricket World Cup 2023, teams' preparations, and the selection of net bowlers, including a food delivery executive, for the Netherlands team.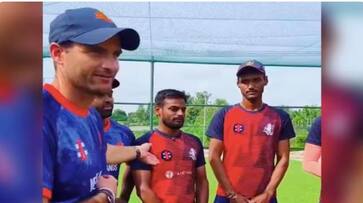 The Cricket World Cup 2023 is quickly approaching, with all the participating teams in the final stages of their preparations. Teams like Australia and the Netherlands have already landed in India for the ODI World Cup 2023, scheduled to begin on October 5 and culminate with the final on November 19. For the Indian cricket team, this showpiece event, held on their home turf, presents a significant opportunity to break their decade-long drought of winning an ICC trophy. Led by Rohit Sharma, the Indian cricket team is set to kick off a three-match series against Australia this Friday.
While powerhouse teams like India, Australia, defending champions England, and Pakistan are considered favourites, the smaller teams in the Cricket World Cup, such as the Netherlands, should not be underestimated. They have the potential to upset any team on their day. In a recent development, the Netherlands team advertised for four net bowlers, and they've selected individuals from various parts of India.
One of these net bowlers is Lokesh Kumar from Chennai. According to a report in the Times of India, Lokesh works as a food delivery executive for Swiggy and will now have the opportunity to bowl to the Netherlands team during their net practice sessions leading up to the Cricket World Cup. Lokesh shared his excitement, saying, "I played in the fifth division for four years. I have registered with the fourth division outfit Indian Oil RO (S&RC) for the current season. After being picked by the Netherlands team as a net bowler, I feel my talent has been recognized."
Lokesh, originally a left-arm pacer, has transitioned into a wrist-spinner. He was selected from a pool of 10,000 entrants who submitted videos for the Netherlands' net bowler position.
Meanwhile, the International Cricket Council (ICC) on Wednesday unveiled the official anthem for the 2023 Cricket World Cup, titled 'Dil Jashn Bole,' featuring Bollywood actor Ranveer Singh and Dhanashree Verma, the wife of Indian cricketer Yuzvendra Chahal. The music was composed by Pritam, with lyrics by Shloke Lal and Saaveri Verma. Ranveer Singh expressed his honor as a cricket fan and a member of the Star Sports family, while musician Pritam emphasized the significance of cricket in India and its role in the global celebration.
Last Updated Sep 21, 2023, 1:57 PM IST