Exclusive — Kumta to Virat Kohli-led Team India: Raghu's incredible journey against all odds
From Kumta taluk (Uttara Kannada district) of Karnataka, throwdown specialist Raghavindraa Dvgi's (Raghu) journey to Team India is an inspirational one. Asianet Newsable spoke to various people who recalled Raghu's struggles and how he made it to the Indian team through discipline, dedication, patience and hard work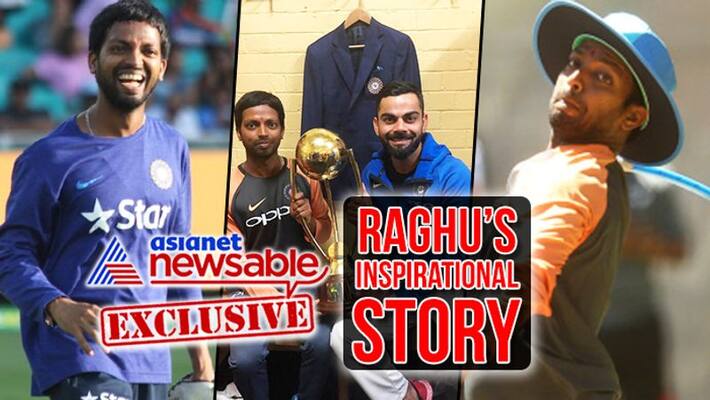 Bengaluru: Life threw many bouncers at this boy. He never threw in the towel. His journey was replete with obstacles. He cleared them all with determination, never-say-die attitude, and a winning smile. Throughout his arduous road many selfless people appeared and guided him to reach his destination. Now, he is reaping the rewards of his hard work. The cricket world recognises him but not many know his real story and the support cast behind his hard-earned success.
 
The boy we are talking about is Raghavindraa Dvgi or Raghu, Indian cricket team's 'Training Assistant' or throwdown specialist.
Also read: Virat Kohli praises Raghu
 
Each and every member of Team India including captain Virat Kohli has wholeheartedly spoken about his contributions. He remains a key member of 'Men in Blue's support staff.
 
If you want inspiration, look no further than 35-year-old Raghu's life. This shy boy from Vivek Nagar in Kumta taluk (Uttara Kannada district) in Karnataka overcame myriad challenges, survived many days on an empty stomach, slept in a graveyard, and moved on without complaining until he accomplished his mission.
Also read: David Johnson speaks on 'real coach' Rahul Dravid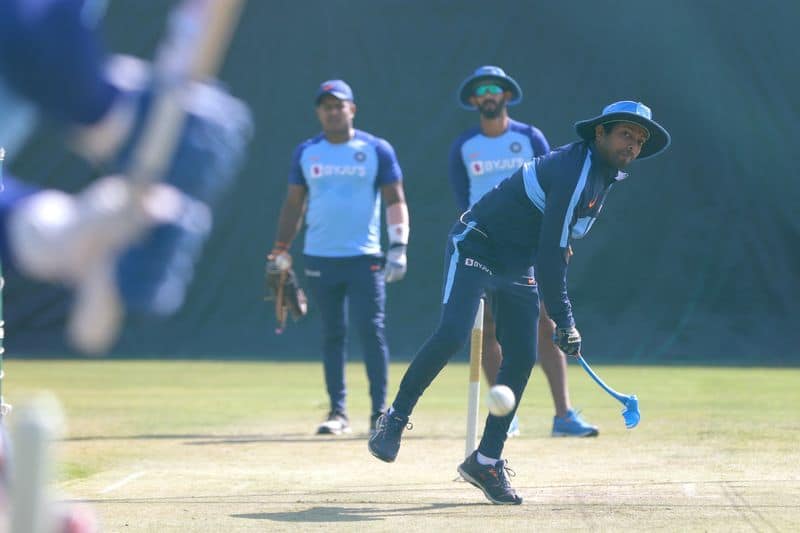 BCCI photo 
Here, Asianet Newsable has tracked Raghu's incredible journey from Kumta to Mumbai to Karwar to Hubli (Hubballi) to Bengaluru to Team India.

Early days
Like millions of Indian youngsters, Raghu too had a dream to play cricket at the highest level. But, he did not get support from his parents — Mohan (from Dvigi village in Kumta) and Chandrakala, as they were keen on their son doing well in academics. Mohan, a school teacher, wanted son Raghu, the second of his three children, to become a doctor or an engineer.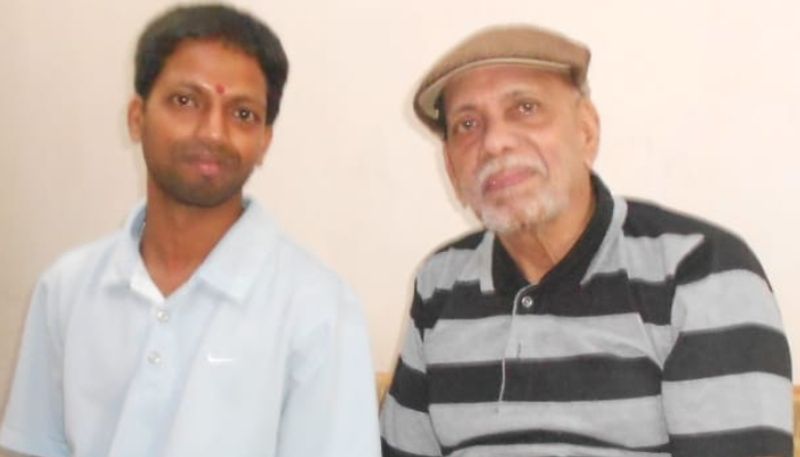 Raghu with Ramakant Achrekar
Raghu studied at the Government Higher Primary Sharada Nilaya School and Gibb High School in Kumta. As a teenager, during school holidays, Raghu's parents sent him to a relative's house in Mumbai where he attended Sachin Tendulkar's guru Ramakant Achrekar's summer coaching camps for two years. It was in 1996 and 1997 that Raghu, a promising offspinner, headed to Achrekar's camp. This was his life's first turning point.
Also read: When 'fearless' KL Rahul said he will score 100 and delivered

During an inter-camp tournament in Mumbai, Raghu bagged 23 wickets and also won the "Best Bowler" award. He was ecstatic that he had made some progress in his cricket career.
 
***
 
Kumta to Karwar

Next, Raghu's cricket dream took him to Karwar, about 70 kilometres from Kumta. In Karwar, Karnataka government's Department of Youth Services and Sports (DYSS) coach PV Nagaraj guided Raghu and he was selected for the Dharwad Zone Under-16 team. There was a newspaper advertisement by the Karnataka government for cricket selection trials and this brought Raghu to Karwar.
Also read: Syed Kirmani on Kapil Dev's 175*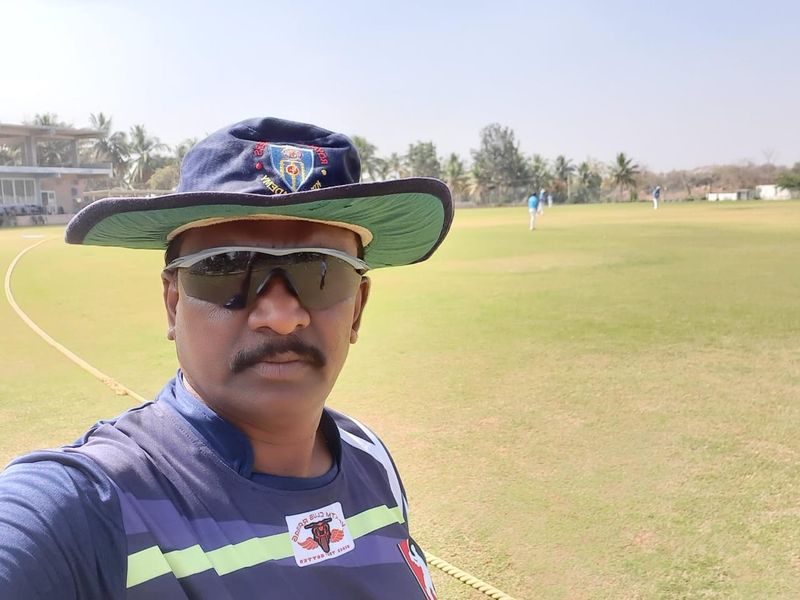 Initially, Nagaraj (pictured) was reluctant to take Raghu under his wing at the Maladevi Ground in Karwar. It was in 1996 that Nagaraj started coaching youngsters in Karwar, a first in the district headquarters of Uttara Kannada.
 
"At first I was not impressed with Raghu. When he came to our selection trials (1998) in Karwar, I did not pay much attention. But the boy was determined. He came with his 'Best Bowler' certificate. I was shocked. He had taken 23 wickets in an inter-camp tournament while attending Ramakant Achrekar's camp in Mumbai. Then I knew how keen this boy was and I took interest in him. From then on, daily, he travelled by bus from Kumta to Karwar for coaching classes. However, his bowling action was suspect; he used to bowl with a bent arm," Nagaraj recalled while speaking to Asianet Newsable.
 
Raghu's 20-day routine involved taking the Mysuru-Panaji (Goa) bus at 4:00 am from Kumta and reaching Karwar by 6:00 am for cricket coaching. For this, he had to wake up at 3:00 am and get ready to catch the bus.
 
According to Nagaraj, Raghu had a good sense of humour and was friendly with everyone. As Raghu continued to train in Karwar, one day his parents landed up at Nagaraj's house.
 
"Raghu's parents were in tears. They did not want their son to lose focus on education. His father said, 'we come from a poor family. We want our son to study. Cricket won't help Raghu. Please advise him not to play the game'. I convinced them not to worry and requested them to encourage Raghu," Nagaraj added.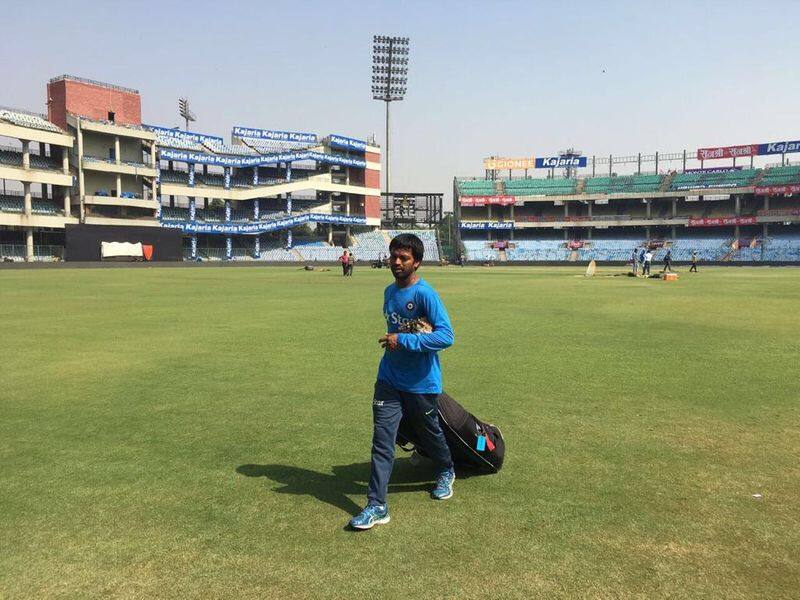 Later, Nagaraj conducted a 15-day athletics/cricket coaching camp in Kumta which helped Raghu, and also the local boys as they could not afford to travel to Karwar.
 
In the year 2000, Nagaraj, who is a qualified cricket coach, was transferred to Davangere. "Raghu was unhappy that I was heading to Davangere. But before I left Karwar, I called up Baba Bhusad (KSCA convenor) and coach Shivanand Gunjal in Hubli and mentioned about Raghu. The boy was so happy and he later went to Hubli," Nagaraj said.
Also read: Interview with Irfan Pathan
It was his relative Srikanth Dvgi who took Raghu to Hubli for Dharwad Zone selection trials. 
After he went to Davangere, Nagaraj was not in touch with Raghu. Five years later, Nagaraj took a Tumkur Zone team for a tournament in Bengaluru where he met Raghu again at the M Chinnnaswamy Stadium during the India-South Africa ODI in 2005. Raghu was helping the India team during warm-ups before the game. It was a proud moment for guru Nagaraj.
 
***
 
Stay in Hubli graveyard
 
After completing his Class 10 exams, Raghu travelled to Hubli, about 175km from Kumta. He convinced his parents that he would join college and pursue a cricket career as well in Hubli.
 
It was in 1999-2000 that Raghu arrived in Hubli. He had just Rs 21 and no place to live. For about one week, he slept at the city's old bus station before police chased him away. Next, he moved to a Hanuman temple for two weeks. He was forced out from there too as people complained.
Also read: Streets named after Tendulkar, Kohli

Then, he took shelter in a graveyard near a cricket ground, and made it his home for nearly three years. He slept on a cricket mat. And, believe it or not, he had a snake for company. But he wasn't afraid. He attended cricket practice for Dharwad Zone team. It was during one of the surprise night checks by VB Hiremath (BV Bhoomaraddi College of Engineering & Technology's administrative manager) and other officials found out that Raghu was staying at the graveyard and was later moved to KLE Society's college hostel. It was thanks to Hiremath that Raghu was admitted in the hostel after he spoke about his plight to KLE Society's chairman Prabhakar Kore. During his stay in the graveyard, he was helped by his friends Moinuddin, Sukesh Nayak and Atul Vishnu Kamat.

 
"Today, what Raghu is because of his sheer willpower. He was crazy about cricket. He was determined. He came as a young boy to Hubli. Whatever we could, we supported him including free education. His mind was always on cricket. I am happy with what he has achieved. He proved many people wrong. Above all, he has remained grounded. He is a boy of few words. He was destined to be with the Indian team," Baba Bhusad (pictured), trustee, BDK Sports Foundation, told Asianet Newsable.
 
"When he came to Hubli, he involved himself in everything. Raghu was a dedicated guy. Daily, he woke up early, before 5 am, and ran 20 to 25 rounds of the ground," coach Shivanand Gunjal said.
 
"We got him admission in KLE Society's Sri Kadasiddheshwar Arts College (SK Arts College) for PUC. Prabhakar Kore sir gave a free hostel room (in Jagadguru Gangadhar College Of Commerce) to stay," Shivanand, who is now president of the Karnataka State Cricket Association for Physically Challenged, added.
 
Abdul Aziz Sayed, who was Raghu's coach and team manager, said, "I have no role in Raghu's success. It is true that I coached him in Hubli but what he has achieved is through his hard work."
 
Another coach, Pramod Kamat, feels proud of Raghu and gives credit to his efforts. "We are proud of Raghu. We may have kept the ladder for him but he was the one who climbed to the top. Our contribution was 20%, the rest 80% was his hard work. He never deviated from his goal. The Raghu I saw 15 years back is still the same — a simpleton."
 
When Raghu had to join college, he did not have a local guardian or residential address as he was living in a graveyard. It was another coach, Ramesh Morab, who helped him with his home address and also arranged for Raghu's stay at a friend's place for a few days before he moved to the hostel.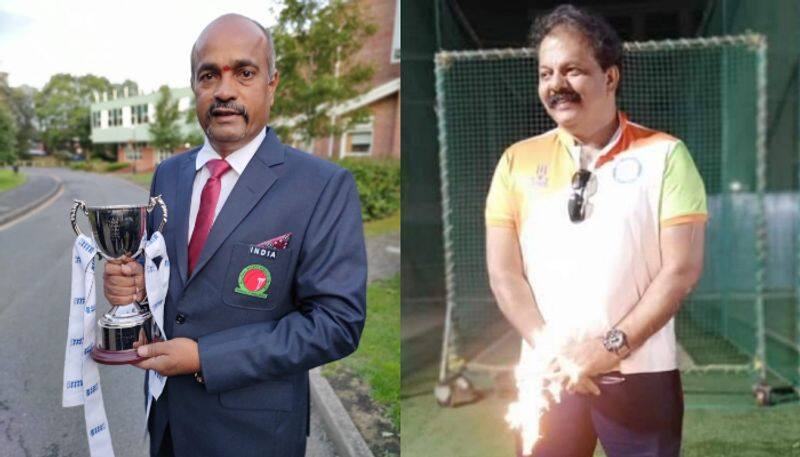 Shivanand Gunjal (left) and Dayanand Shetty
"Raghu is a simple village boy. His knowledge about the game is amazing. He trained Under-13 boys in Hubli. Despite struggles, he never complained. He always respected the game. Whatever we could, we helped him. We all feel very happy for him," Ramesh said.
Raghu's life took one more turn in Hubli when he slipped and fell while using the stairs in the college hostel. He fractured his right hand. This almost ended his cricket career.
 
"He had a fall and fractured the right hand. He couldn't play and was part of our support staff. This was a new beginning for him. I as the coach accompanied teams for zonal matches conducted by KSCA. I requested the convenor to include Raghu as an assistant. His first tour, with the Dharwad Zone Under-14 team, was for one month, travelling from Hubli to Shimoga, Bengaluru, and Mysuru. At the time KL Rahul played for Mangaluru Zone," Shivanand reminisced.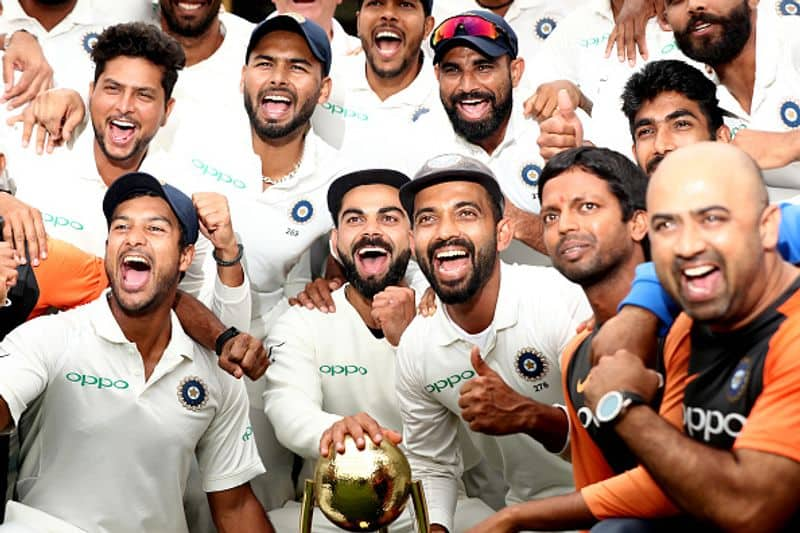 During his Hubli days, with no money, Raghu couldn't afford to pay for his daily meals. It was taken care of by BV Bhoomaraddi College of Engineering & Technology (BVBCET) canteen, Gurudutta Bhavan and Karnataka Bhavan. Raghu shuttled between these places for three meals a day.
 
Once Raghu completed his second PUC, he had no place to stay as he had to move out of the college hostel. At the time, another person saved him.
 
Dayanand Shetty, a former Karnataka cricketer, provided him the biggest break. It was Shetty who convinced Raghu to go to Bengaluru, 400km from Hubli. It became Raghu's life-changing decision. It was in Bengaluru that Raghu shifted his focus from being a cricketer to turning coach/throwdown specialist.
 
"I spoke to my friend and coach Irfan Sait and requested him to help Raghu. At the time, Irfan was in Mumbai, and on his way back to Bengaluru, Raghu and I met him at Hubli railway station. Initially, Raghu said he won't go to Bengaluru but changed his mind," Shetty recalled.
Apart from Shetty, Raghu's friends Sukesh Nayak and Moinuddin convinced him to go to Bengaluru.
 
***
 
Hubli to Bengaluru; Javagal Srinath's role
 
Raghu joined Irfan's Karnataka Institute of Cricket (KIOC) in Bengaluru, and played for a club besides assisting men and women cricketers.
 
Irfan recollected, "I was travelling back to Bengaluru with the Karnataka women's cricket team. Raghu met me at Hubli railway station. I asked him whether he was willing to stay in my office complex, and he agreed. At the time I did not have a hostel facility. He was a passionate cricketer. When he came to KIOC, he had a suspect bowling action. I helped him correct it and he played for Swastic Union Cricket Club with Robin Uthappa and others. He played KSCA's YS Ramaswamy (YSR) Memorial tournament. He was very emotional when he got a chance to represent our club."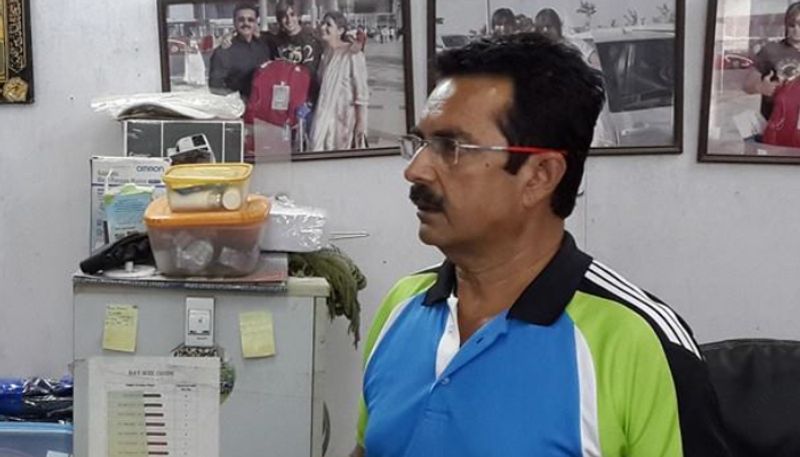 Irfan Sait
He added, "Subsequently, he made contacts with Karnataka's top cricketers as he helped them with the bowling machine at KIOC. He was very skillful while using the bowling machine. Sometimes when there were power failures, he used to throw the balls. From there on, he picked it up to become a throwdown specialist. He started believing in himself that he can do the throwdowns. His first assignment was when he travelled with me to Bhubaneswar as part of the Karnataka women team's support staff."
Also, when KL Rahul was leading a Karnataka junior team, coach Fazal Khaleel was instrumental in including Raghu as part of the support staff for a tournament.
"I still remember. It was in 2007. I was the coach of the Karnataka Under-17 team and KL Rahul was the captain. We did not have a trainer and I told Brijesh Patel (KSCA secretary) that I will take this boy and go (to Cuttack). We were there for one month. Later on, when he came there, he told it was his first time on a plane. Whenever he meets me, he still acknowledges about his first chance. I tell him that it is God paying him back for his hard work and I was just means towards that. Raghu is a great example to show there is no substitute for hard work. Luckily for him, Rahul (Dravid), Sachin (Tendulkar) noticed him at the NCA. It is not about who you know and it is what you know. Raghu has come up by dint of hard work. His is a brilliant story," former Ranji Trophy player and current state selection panel chief Fazal said.
 
At KIOC, Raghu's work caught the attention of Karnataka Ranji Trophy players Thilak Naidu, B Akhil, Deepak Chougule and others. Thilak spoke to former India fast bowler Javagal Srinath who was instrumental in opening the doors to Raghu to join the Karnataka senior team when Venkatesh Prasad was the coach. There he impressed state cricketers and also former India batsman Vijay Bharadwaj, who supported Raghu. And, it was Akhil who introduced Raghu to Rahul Dravid.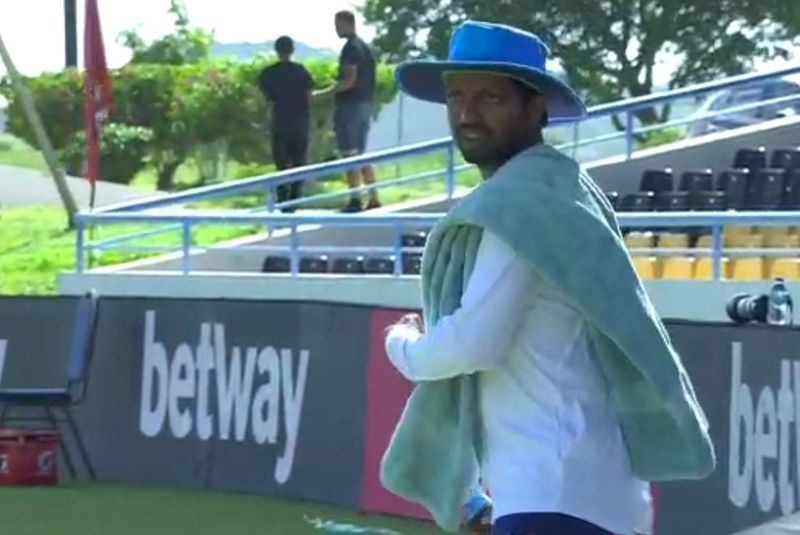 "I met Raghu when he was with Irfan's academy. I think it was in 2003 or 2004. He has assisted me with throwdowns. Later, I spoke to Srinath and sought his help. From KSCA, he progressed to NCA and to the Indian team. I am happy for him," said former Karnataka Ranji Trophy player Thilak.
Another ex-Ranji Trophy cricketer Deepak too recalled Raghu's contribution. "Raghu has worked hard to reach where he is today. I met him at KIOC. There were several occasions when he stayed in my house in Wilson Garden, Bengaluru. At the time, I used to practice with plastic balls at KIOC wickets and Raghu was the throwdown specialist. Also, many don't know that he has helped Manish Pandey a lot. Raghu has thrown a lot of balls at Manish before he played for Karnataka and later India. Raghu has remained the same."
Do you know how Raghu impressed Srinath?
 
Raghu was once giving throwdowns to Thilak at KSCA 'B' ground (NCA). At the time, Srinath was using a treadmill in NCA gym. From there, he noticed Raghu and was amazed by his cricketing knowledge as he was correcting Thilak. He asked Thilak who the young boy was and then the Karnataka wicketkeeper-batsman spoke highly of Raghu and sought Srinath's help.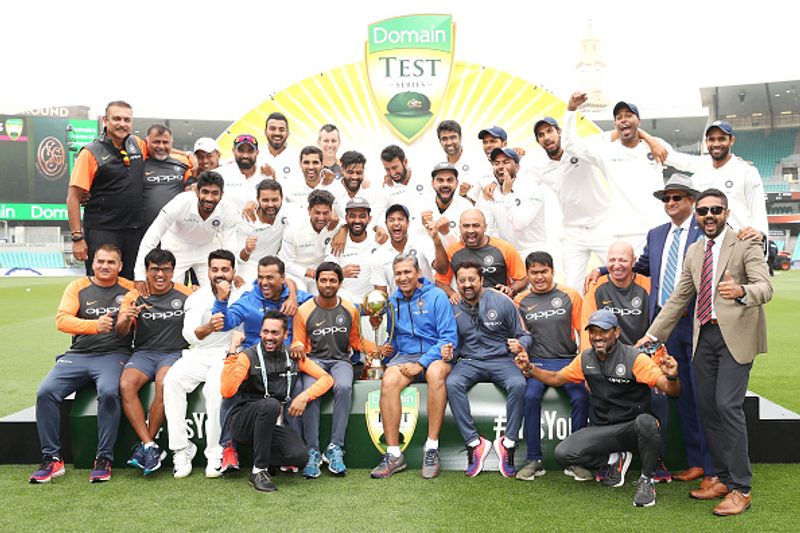 Srinath told Asianet Newsable, "Raghu used to come to KSCA (Karnataka State Cricket Association in M Chinnaswamy Stadium). He was ready to throw balls to players during training sessions, and was also ready to do any work. He is an honest boy with high integrity. If you show the right kind of devotion towards the game, it can take you miles. That is exactly what we have seen in Raghu's case. He is a nice boy. Good human beings will always get a good deal in life. That is what has happened to Raghu."
 
At KSCA, Raghu was assisting the Karnataka Ranji Trophy team and in between he was taking care of Boost Cup Under-16 teams, a tournament hosted by KSCA. When he was not with the Karnataka team, he sprinted across to the National Cricket Academy (NCA), which is located in the Chinnaswamy Stadium premises. It was due to Srinath that from KSCA, Raghu officially became a part of the NCA and got recognised by the Indian team when Sourav Ganguly was the captain. Both at KSCA and NCA, Raghu worked without getting any remuneration.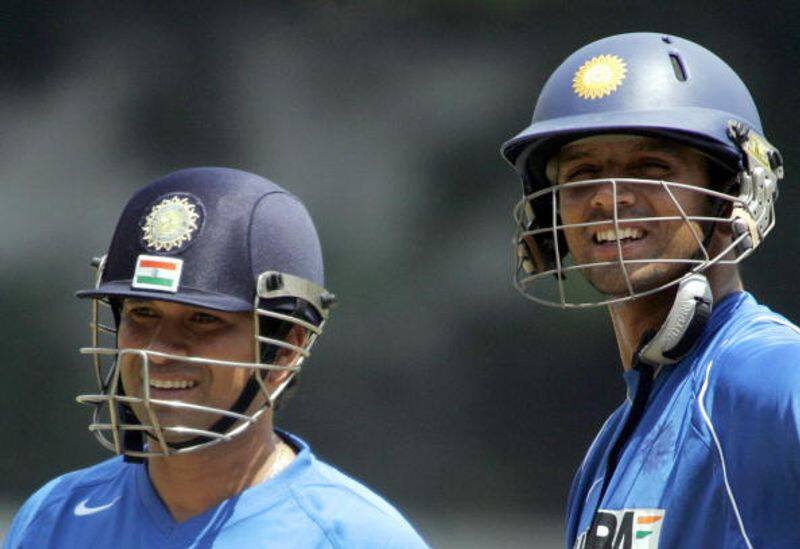 Colonel (Retired) KR Nair, who was NCA's general manager (administration), had this to say. "Raghu was roaming around the NCA. One day, (Javagal) Srinath spoke to me and asked whether I can help him. Then, I gave Raghu a cricket kit and shoes. Later, I made him take care of the NCA store. He was a keen follower of the game. He did more than what he was told to do. I gave him a place to stay in the NCA premises. Later on, he became a part of the NCA, officially, as a helper. He got along with everybody. He was available 24/7. What he is today is because of his hard work. He deserved it."
At the NCA, Tendulkar, Dravid, Virender Sehwag, MS Dhoni, Laxmipathy Balaji, Harbhajan Singh, Ashish Nehra and many other players, coaches, BCCI, NCA officials helped Raghu. Also, batting legend GR Viswanath, India coach Duncan Fletcher, and Dav Whatmore, who was NCA's director of cricket operations, encouraged Raghu.
When KSCA Academy was training youngsters, coaches Sanath Kumar and RX Muralidhar encouraged Raghu.
 
***
 
Making Team India 'debut'
 
Thanks to Tendulkar and Dravid, Raghu, for the first time, was part of Team India's support staff as an 'attendant/helper' when the national side travelled to Australia in 2011. However, he was out of the side after a single tour, and returned to the NCA. It was a huge achievement for Raghu that Tendulkar had handpicked him having seen his work ethic. Raghu had impressed the 'God of cricket'.
Also, in 2011, when India won the World Cup after 28 years, Raghu had assisted the Dhoni-led team when the preparatory camp was held at the NCA.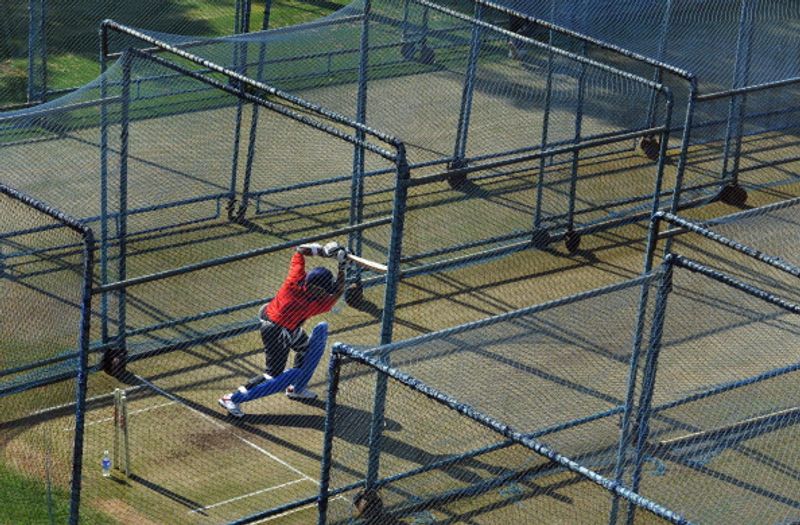 Again, he was back with the Indian team in the year 2014 as a 'Training Assistant' for the England tour and since then he became an integral part of the Dhoni, Kohli-led outfits.

***
 
Raghu, the qualified cricket coach
 
At the NCA, Raghu assisted some of India's top cricketers with throwdowns.

 
Amid the struggles, do you know, Raghu completed BCCI's Level 1 coaching course? Yes he is a qualified cricket coach. He had enrolled for the course through Gujarat Cricket Association (GCA) and successfully completed it in Ahmedabad.
 
***
 
Raghu's RoboArm
 
Many don't know that the RoboArm ball throwing equipment was developed by an Indian company in consultation with Raghu. The Hyderabad-based makers including Partha Pemmaraju (CEO, Leverage Science and Technology Limited) received numerous inputs from Raghu before they manufactured the gadget. In training sessions, you can see Raghu using it. As a tribute to Raghu, the company named the gadget starting with the letter 'R'.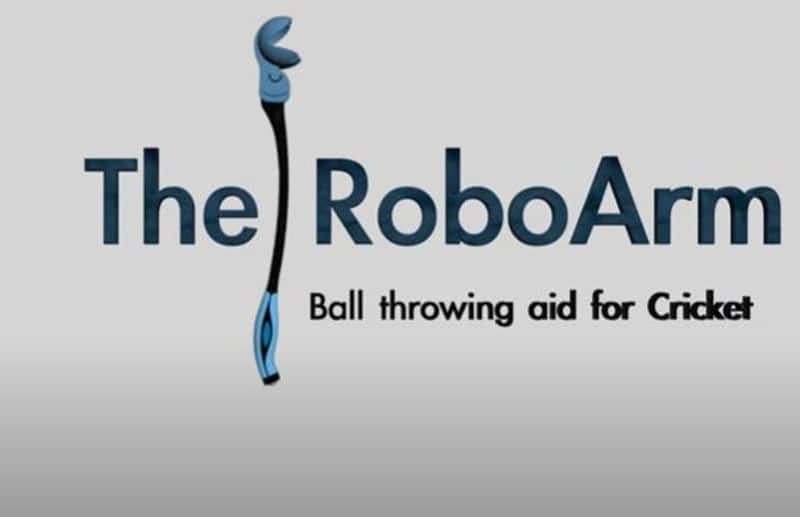 The untiring Raghu delivers nearly 1,000 balls during a three-hour training session. His deliveries consistently hit the 140+ kph mark. Thanks to him, Indian batsmen including Kohli, have excelled against some of the best fast bowlers in the world.
 
For Raghu, India first

Raghu is so passionate about serving India that he refused a lucrative contract from England and Wales Cricket Board (ECB). Not only this, Raghu shunned IPL money when the cash-rich Twenty20 league was launched in 2008. He rejected IPL offers as he wanted to stay loyal to BCCI and NCA who played a big part in his career.

For him, it was not about money but service to the nation. He has pledged his life to the Indian cricket team.
 
On many occasions, in Hubli and in Bengaluru, Raghu, a strict vegetarian, had to live without food. He survived on bananas and sometimes only on water. Though some have suggested he switch to non-vegetarian to get more strength, he has not. He is a religious guy and observes fasts.

 
When he left home, his father had advised him to be honest in whatever he did, and always give 100%. And, till date he has lived by his dad's words.
 
Talking to cricketers and coaches, one thing they have reiterated is, Raghu is an honest, selfless guy dedicated to the game.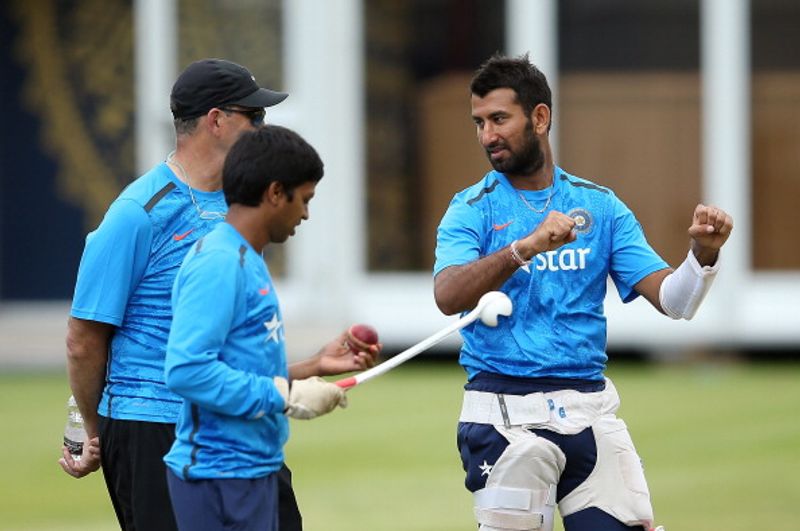 There were several instances when cricketers, coaches offered him money but he refused to accept even a single paisa. In spite of his pockets being empty, he never compromised. His motto was service without expectation. He is one of the rarest guys you find. May he serve Indian cricket for a very long time.
 
***
 
What Indian players said about Raghu
 
Sachin Tendulkar on TV commentary during World Cup 2019
 
"He has been an integral part of the Indian team. His sidearm bowling in the nets and batsmen middling those deliveries gives them confidence. The sound of the ball meeting the middle of the bat is a different feeling. For that, Raghu has played a big part. Even if you ask Virat (Kohli), he will mention about Raghu's contribution."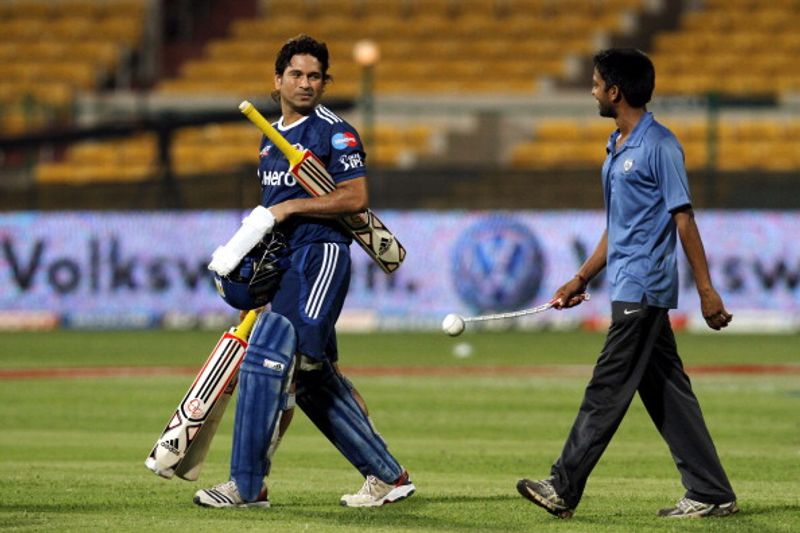 Virat Kohli to Tamim Iqbal on Instagram
 
"I believe the improvement this team has shown while playing fast bowling since 2013 has been because of Raghu. He has good concepts about footwork, bat movement of players. He has improved his skills so much that from sidearm he easily hurls the balls at 155 kmph. After playing Raghu in nets, when you go into the match, you feel there is a lot of time."
 
Virat Kohli in one of the post-match press conferences
 
"The support staff's contributions get overshadowed due to players' performances. In the nets, he (Raghu) gives batting practice with 145-150 kph pace. With this, when you face bowlers in the match, comparatively it becomes easy for us. We have got preparations like match scenarios. A lot of credit goes to them. Personally, due to their (Sanjay Bangar and Raghu) inputs and practice, my batting has gone up to a different level. Their inputs are priceless."
Sunil Gavaskar on Sony TEN TV
"He is very, very good, you can see from his accuracy. It is not easy to get that accuracy. First of all, you know, what I did, I loved him because he wore a cap without that India logo. On the shirt, everybody is getting it. But, on the cap, he gave respect to it. I think the cap is got to be something special. I really admire him for that because you know that is fantastic."
India coach Ravi Shastri on Twitter
"Raghu the behind the scenes unsung hero of Indian cricket. A champ who makes champions tick."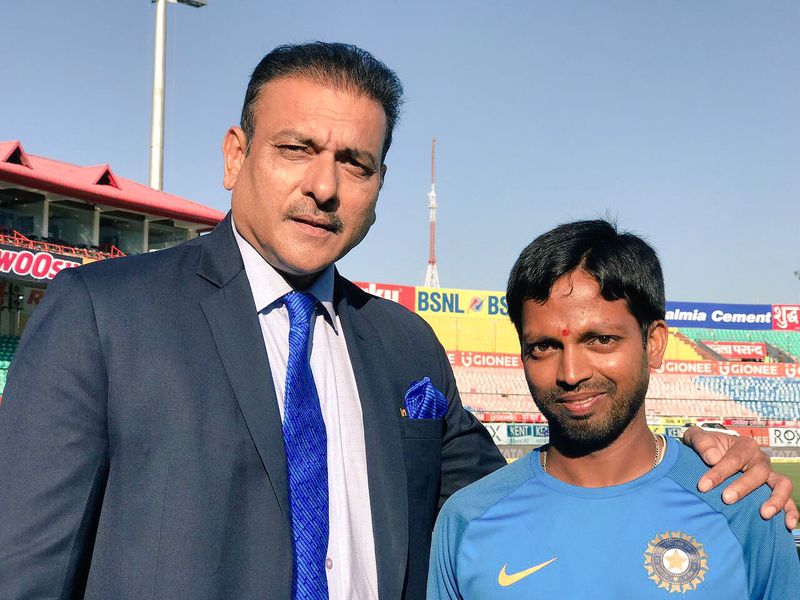 Sanjay Manjrekar during TV commentary
 
"There are hard working men off the field. Raghu is one of the more indispensable members of the support staff. With his sidearm gadget, he can do a Mitchell Starc, he can do a (Kagiso) Rabada. Virat Kohli loves his time against Raghu."
 
Yuvraj Singh to bcci.tv
 
"I met Raghu at the National Cricket Academy. He used to do everything over there, from serving drinks to throwdowns to setting up nets. I feel he is someone who is more committed to the game in whatever he does, than any cricketer in the world."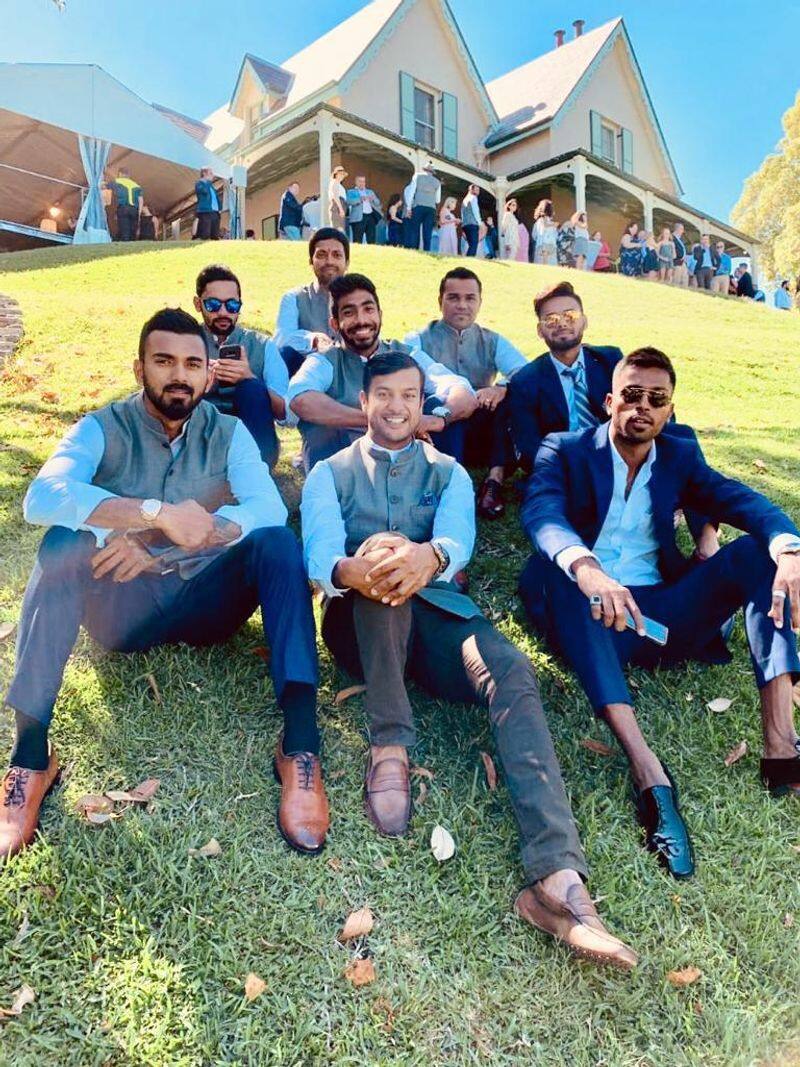 Suresh Raina on bcci.tv
 
"Best thing about him (Raghu) is he doesn't know how to say no. He will always say yes to give you throwdowns. I met him in 2005. He is a very religious man. He fasts on Mondays. He is such a nice guy, very down to earth person. He always wanted to do something special for Team India... He and Sanjay Bangar are Jai-Veeru of Sholay in the Indian team."
 
Shikhar Dhawan to ICC and bcci.tv
 
"Raghu is a legend. He has been with the Indian side for a while now. He's very sharp, I would say he is the most energetic person in the team. We would all like to thank him, without him our batting would not have improved so much. He throws at nearly 150kph tirelessly."
 
"He works harder than us. He never gets tired. He gives us quality practice. Our fear factor goes away after facing Raghu's pacy deliveries. He doesn't like us hitting him for four or a six. If he hit boundaries, we can expect bouncers next... Off the field he is a simple guy with pure soul."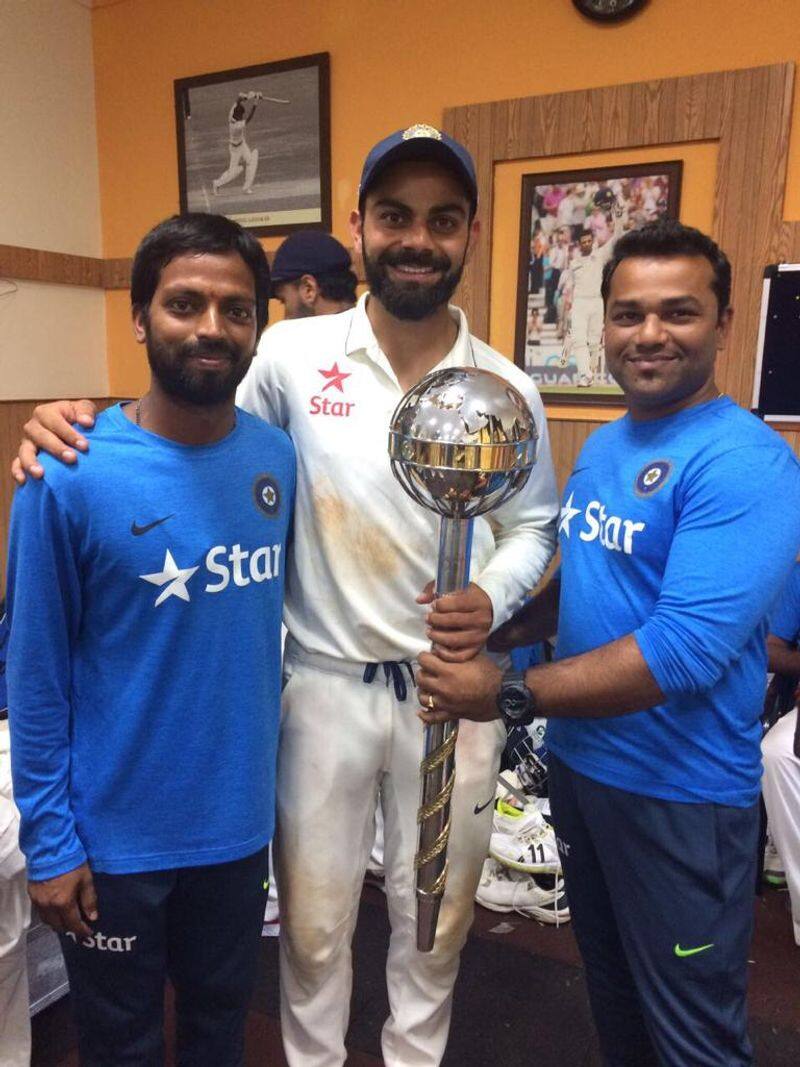 Rohit Sharma to bcci.tv
 
"First time I saw Raghu was in Bengaluru when I came for an Under-19 camp. Since the time he has joined the Indian team, all the batsmen have benefited a lot."
 
Cheteshwar Pujara in conversation with KL Rahul during a Test match
 
"There is one more dangerous bowler from Karnataka. All the batsmen are scared of facing him. He is Raghu. He is one of the most hardworking guys in the Indian team."

 
KL Rahul to Pujara
 
"Raghu has been a sort of second coach to me. He was there at the NCA since my Under-15 days.  He made sure that he called me for training. He used to throw balls at me all day. Me and him spoke a lot about batting. He helped me groom and get better as a player. A lot of credit goes to him for my cricket. We used to work very very hard on my batting. He made sure that I wouldn't go to watch movies or got out to a party. He would make sure that he tired me so much that I had no energy left to go out and do anything.
 
"A lot of coaches kept telling me that 'you are batting too much, working too hard, don't do this, don't do that'. So I had to find a way to hide from all of the coaches and still put in the hours (in the nets). So we used to practice at 6 in the morning. And, we used to wait for everybody to leave NCA and slowly switch on the lights in the indoors (facility) and keep working. He is somebody who has helped me a lot. I give a lot of credit to Raghu. He tells me that the most he enjoys bowling to, in the Indian team, is Pujara. Because, he is always giving him (Raghu) dead stares. Pujara is soft spoken, he wants to shout at Raghu because he is always bowling, overstepping, he is always bowling too fast, he is always beating the bat. So, he (Pujara) wants to shout at him but he cannot, he is always holding himself back. So, Pujara and Raghu have a great rivalry going on."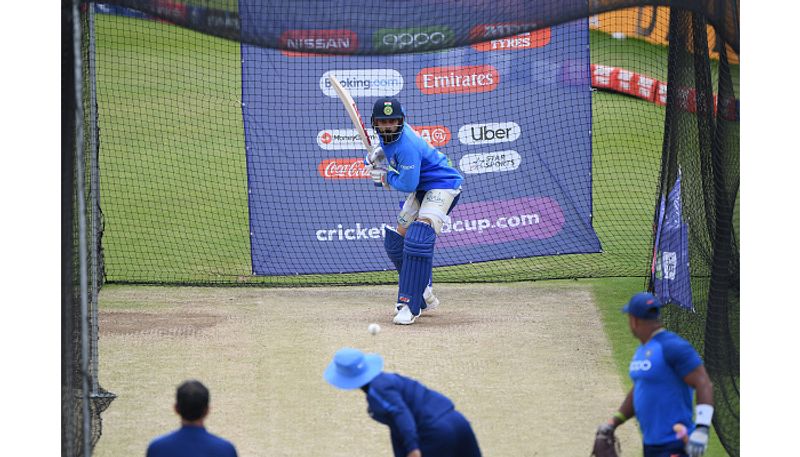 Zaheer Khan on Sony TEN
"It is about playing that many number of balls in the nets and working on specific drills. And, Raghu is someone who has been very hardworking."
Last Updated Jul 17, 2020, 12:15 PM IST