Travis Head expresses disbelief After match-winning century in World Cup final against India
Moments after delivering a stellar performance in the World Cup final against India, Travis Head expressed disbelief at his match-winning century, stating he "never expected this in a million years."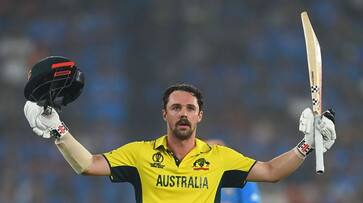 Travis Head moments after delivering a breathtaking innings in the World Cup final against India - "Never in my wildest dreams did I anticipate this,". The Australian opener's stunning 120-ball 137 played a pivotal role in securing Australia's record-extending sixth title, chasing down 241 with six wickets to spare. Head, overwhelmed by the exceptional day, shared his disbelief, emphasizing the experience was far superior to merely sitting at home. Australia's recovery from three wickets for 47 runs was fueled by Head's phenomenal 192-run partnership with Marnus Labuschagne (58 not out off 110 balls).
Reflecting on his contribution, Head expressed his joy, attributing confidence gained in the initial deliveries. He credited Mitch Marsh for setting an energetic tone, recognizing the required energy for navigating a potentially challenging pitch. Australia's decision to bowl first, backed by winning the toss, proved beneficial, with Head noting the pitch's improvement and the dividends paid by a bit of spin.
Also Read: Rohit Sharma reflects on India's defeat in World Cup final against Australia
Speaking on India's skipper Rohit Sharma, Head empathised, considering him perhaps the most unlucky man globally. Discussing his fielding prowess, especially the stunning catch to dismiss Rohit, Head highlighted the hard work invested. Joining the elite list of centurions in World Cup finals alongside Ricky Ponting and Adam Gilchrist, Head expressed his delight in contributing to Australia's success.
Marnus Labuschagne, visibly moved by the achievement, described it as unbelievable. Despite India's strong tournament performance, Labuschagne emphasized the belief that playing the best cricket offered a chance for success. Labuschagne praised Australia's sensational bowlers and Travis Head's remarkable display. Overwhelmed by the turn of events, Labuschagne admitted being at a loss for words, emphasizing the incredible journey from not being in the one-day team in South Africa just two months ago.
Also Read: IND vs AUS WC Final: KL Rahul becomes 1st Indian player to script this massive World Cup feat
Last Updated Nov 19, 2023, 11:50 PM IST