Sri Lanka cricket revokes Gunathilaka's suspension; clearing path for National comeback
In a significant development, Sri Lanka Cricket (SLC) has lifted the suspension imposed on Danushka Gunathilaka following a sexual assault allegation during the T20 World Cup in Australia.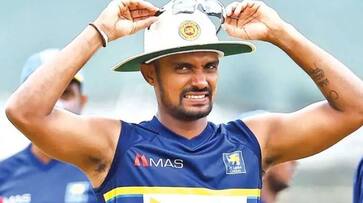 On Tuesday, Sri Lanka Cricket (SLC) lifted the ban imposed on Danushka Gunathilaka in connection with a sexual assault allegation in Australia. This decision now enables the left-handed batter to make a comeback to the national team.
The Independent Inquiry Committee appointed by SLC, tasked with investigating the impact of criminal allegations against Mr. Danushka Gunathilaka in Australia, has recommended a complete lifting of the ban imposed in November 2022. This follows Mr. Gunathilaka's acquittal from all charges filed in the District Court of New South Wales and his return to Sri Lanka on 3rd October 2023, stated a release.
In November 2022, Gunathilaka faced allegations of sexual assault during his visit to Australia as part of Sri Lanka's T20 World Cup team. Arrested based on the accusation made by a woman, he faced four counts of rape charges, all of which were subsequently dropped by the prosecution before trial. He also experienced 11 months of travel restrictions in Australia.
Pleading not guilty, Gunathilaka underwent a four-day long trial and was eventually acquitted of all charges filed against him in the District Court of New South Wales. He returned to Sri Lanka on October 3 this year.
The suspension was pending the outcome of legal proceedings and was imposed in light of the impact of his actions on the reputation of cricket and the country, read the SLC statement.
After a thorough evaluation of Mr. Gunathilaka's exoneration and careful consideration of his cricketing career and its implications for the nation's cricketing aspirations, the Inquiry Panel, led by Retired High Court Judge Sisira Ratnayake, alongside Mr. Niroshana Perera, Attorney at Law, and Mr. Asela Rekawa, Attorney at Law, unanimously recommended an immediate lifting of his cricketing ban. This decision allows him to resume regular cricket activities and return to national duty.
Also Read: ODI World Cup 2023: Adam Zampa's focus on wickets over economy: A key strategy for Australia in the mega event
Last Updated Oct 17, 2023, 1:50 PM IST