ODI World Cup 2023: Adam Zampa's focus on wickets over economy: A key strategy for Australia in the mega event
Discover how Australian spinner Adam Zampa prioritises wicket-taking over economy rate, a strategic approach that could prove crucial in the World Cup.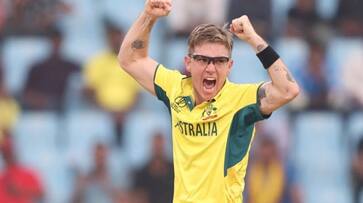 Adam Zampa, undeterred by economy rate, prioritises capturing more wickets. Criticised for his performance in the initial World Cup matches, Australia's primary spinner, Adam Zampa, stated that he isn't troubled by conceding runs as long as he is effective in taking wickets. Australia faced a precarious situation after consecutive defeats against India and South Africa before securing a five-wicket victory over Sri Lanka on Monday.
Reflecting on his subpar showing in the first two games, Zampa acknowledged his room for improvement and emphasized his focus on making a difference in the game by targeting wickets, especially during challenging situations like defending a modest target against India. He expressed that figures are not his primary concern, but rather it's about evaluating his performance and efforts to contribute to a win.
In the games against India and South Africa, Zampa's bowling figures were 0/53 and 1/70, resulting in a combined figure of 1/123 in 18 overs. Despite a sluggish start against Sri Lanka, where he conceded 22 runs in his initial three overs, Zampa made a comeback with a crucial match-winning spell of 4/47.
Zampa revealed he experienced a random back spasm and underwent a fitness test before the Sri Lanka match. He acknowledged the challenging circumstances but remained committed to playing his role effectively.
Shifting focus to the game against Sri Lanka, Zampa credited skipper Pat Cummins for a transformative spell and energetic performance in the field. Cummins' impactful spell and a crucial run-out changed the momentum of the game and energized the team.
Looking ahead to the next game against Pakistan in Bengaluru, Zampa highlighted the team's determination to bounce back after the initial losses and stressed the importance of a collective effort to improve their standing in the tournament. He expressed confidence that a win against Pakistan would boost the team's morale and enhance their chances in the World Cup.
Also Read: ODI World Cup 2023: Australia finally open their account of win, beat Sri Lanka by five wickets
Last Updated Oct 17, 2023, 12:37 PM IST