Rohit Sharma to Virat Kohli - Here's how Indian cricketers celebrated Ganesh Chaturthi 2023; see pics
Indian cricket stars, including Rohit Sharma and Virat Kohli, celebrated Ganesh Chaturthi 2023 with great enthusiasm. Explore the heartwarming moments and cultural significance of their celebrations through these remarkable pictures.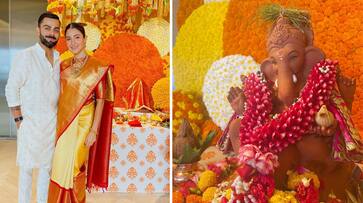 Ganesh Chaturthi, a joyous occasion celebrated by Cricketers, saw stars donning traditional attire and offering their prayers to Lord Ganesha. From Rohit Sharma to Virat Kohli, the Indian cricketers opened their hearts and homes to welcome Ganesha's divine presence. The power couple, Anushka Sharma and Virat Kohli. Anushka, known for her grace and charm, shared glimpses of their Ganesh Chaturthi celebration with her fans on social media. Her Instagram post featured heartwarming moments that truly captured the essence of the occasion.
In her Instagram caption, Anushka Sharma extended her warm wishes with a simple yet heartfelt "Happy Ganesh Chaturthi." The first picture in her post displayed the divine Ganesh idol, radiating spirituality and devotion. The second image showcased Anushka and Virat Kohli together, capturing a beautiful moment between the couple.
Anushka Sharma's choice of attire for this auspicious occasion left everyone in awe. She adorned herself in a resplendent saree featuring a captivating combination of golden and red hues. Her hair was elegantly tied up in a bun, accentuating her timeless beauty. A touch of subtle makeup only enhanced her natural grace, leaving no room for doubt that she looked absolutely stunning.
Virat Kohli, not to be outdone, complemented his wife's beauty with his attire. He sported a white kurta adorned with intricate prints, paired with comfortable pajama bottoms. Together, the couple exuded charm and elegance, showcasing their deep connection and shared traditions.
Here are some of the post from other cricketers: 
Last Updated Sep 20, 2023, 11:57 AM IST