ODI World Cup 2023: Will Shubman Gill play in India vs Pakistan clash? MSK Prasad drops hint
As the highly anticipated India vs Pakistan match in the ICC World Cup 2023 approaches, the question of Shubman Gill's fitness takes center stage. Former BCCI Chief Selector, MSK Prasad, shares his optimistic view, suggesting that Gill's inclusion in the game against Pakistan seems likely, dispelling doubts regarding his availability.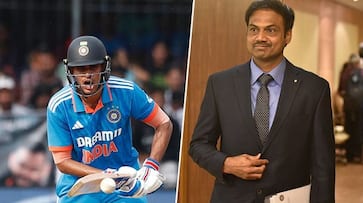 As the eagerly awaited India vs Pakistan clash in the ICC Cricket World Cup 2023 looms on the horizon, there's an air of uncertainty surrounding the availability of Shubman Gill. The talented opening batter, who recently battled dengue fever, returned to the nets two days before the high-profile contest. The question on everyone's mind is whether he's fully fit for this crucial match against Pakistan. MSK Prasad, the former Chairman of Selectors for the Board of Control for Cricket in India (BCCI), believes Gill will "definitely play" against Pakistan, dispelling any doubts.
"I think we can put an end to all kinds of speculations. Shubman Gill will definitely play this game (vs Pakistan). He's too good a player to miss out. He had just a fever. He has recovered," Prasad stated, emphasizing that the illness was not as serious as rumours may suggest.
Prasad explained that Gill's precautionary absence in a prior game was due to his recovery process. "See, if someone is playing for 1 hour, that means he has recovered. This is an all-important game against Pakistan. If he is fit, which I'm sure he is, then he should be in India's playing XI," he added.
Shubman Gill, who plays for the Gujarat Titans in the Indian Premier League, has a strong connection to the Narendra Modi Stadium, where the match will take place. His familiarity with the venue and his record there make him a valuable asset for the team.
Prasad believes Gill should get the nod over Ishan Kishan if he's fit, citing his excellent track record and match-winning potential. "I would want him in the XI," Prasad stated, highlighting Gill's ability to stabilize the innings and make valuable contributions.
Also Read: Cricket among 5 news sports introduced by IOC for Los Angeles 2028 Olympics
Last Updated Oct 13, 2023, 4:41 PM IST