ODI World Cup 2023: England pacer Stuart Broad's bold admission on India's prospects of winning at home
Former England pacer Stuart Broad recognises India as the team to beat in the ODI World Cup 2023. In a candid assessment, he acknowledges India's formidable presence in the tournament and discusses England's challenges and prospects.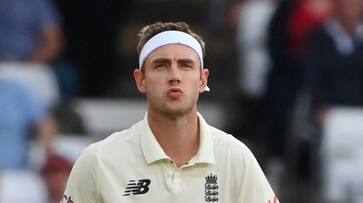 As the ODI World Cup 2023 unfolds, England, the defending champions, are eager to secure another title, having clinched the 2019 championship in a nail-biting contest. Despite not being part of the current World Cup squad, former England pacer Stuart Broad maintains confidence in the team's ability to triumph in the tournament. However, he openly expresses his apprehension about Rohit Sharma's Indian squad, acknowledging that if India performs at their peak, they will pose an immense challenge.
Broad conveyed, "If England manages to retain their World Cup title, it will be a phenomenal achievement. However, my prevailing belief is that if India executes their flawless campaign, stopping them will be a formidable task."
In a column for the Daily Mail, Broad elaborated on the challenges England faces, including a demanding fixture schedule that requires frequent travel between cities, unlike some other teams with more stable playing conditions.
Additionally, Broad shared his predictions for the semi-finalists, asserting that alongside India, Pakistan and England are strong contenders. He cited Pakistan's formidable bowling lineup and high-quality batters like Babar Azam as their strengths. As for the fourth team, Broad leaned towards New Zealand over Australia, emphasizing New Zealand's knack for excelling in tournament scenarios.
In conclusion, Stuart Broad's candid admission highlights India's status as a formidable force in the ODI World Cup 2023 and sets the stage for an exciting and fiercely contested tournament.
Also Read: Swachh Bharat: Asian Games-bound Indian cricketers unite for cleanliness; send inspiring message - WATCH
Last Updated Oct 2, 2023, 3:52 PM IST