ODI World Cup 2023: Shoaib Akhtar's message to Pakistan captain Babar Azam ahead of India clash (WATCH)
Shoaib Akhtar conveys his encouragement to Pakistan's skipper, Babar Azam, as the team prepares for the highly anticipated encounter with India in the ICC Men's ODI World Cup.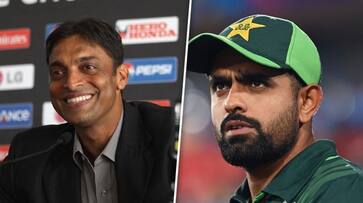 In the Cricket World Cup 2023, Babar Azam faced another underwhelming performance, as he was dismissed for just 10 runs against Sri Lanka. This marked the second instance in the tournament where Babar Azam fell short. While the Pakistan team, led by Babar Azam, achieved an exceptional feat by successfully chasing a record target of 345 against Sri Lanka, it was Mohammad Rizwan and Abdullah Shafique who stood out with centuries. Nonetheless, Shoaib Akhtar, the renowned fast bowler, had some words of encouragement for Babar Azam as Pakistan gears up to face India.
Shoaib Akhtar acknowledged Babar Azam's struggle and highlighted the emergence of players like Abdullah Shafique. He emphasized the importance of performing well in significant matches like the upcoming India-Pakistan encounter and expressed his confidence in Babar's potential to deliver substantial innings in crucial games.
Akhtar also offered support to Pakistan's bowlers, who conceded 344 runs against Sri Lanka. He urged fans not to be overly critical of the team's ODI bowlers, as they are still developing, having played just 12 ODIs in the past year. Akhtar remained optimistic about their performance in the upcoming matches.
Pakistan's remarkable victory against Sri Lanka, chasing the highest target in World Cup history, has bolstered their confidence ahead of the much-anticipated clash with India in Ahmedabad.
Also Read: Revealed: How Virat Kohli and Naveen ul Haq made up after heated spat during IPL (WATCH)
Last Updated Oct 12, 2023, 4:41 PM IST