Revealed: How Virat Kohli and Naveen ul Haq made up after heated spat during IPL (WATCH)
Indian cricket superstar Virat Kohli and Afghanistan's pacer Naveen Ul Haq, who found themselves in the midst of a heated spat during the IPL, put their differences aside with a handshake and embrace during a World Cup match.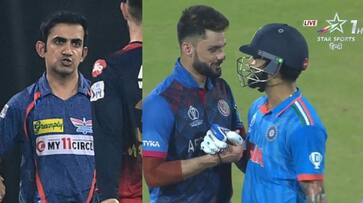 Virat Kohli, the renowned Indian cricket star, and Afghanistan's fast bowler, Naveen Ul Haq, who had a public dispute during this year's IPL, buried the hatchet with a handshake and an embrace during their World Cup match on Wednesday. Their quarrel unfolded during the IPL when Naveen, batting for the Lucknow Super Giants, engaged in a tense chase against the Royal Challengers Bangalore. The incident escalated into a significant controversy, as their altercation continued during the customary post-match handshake. K L Rahul had to step in, and LSG mentor Gautam Gambhir was visibly upset on the field.
On Wednesday, cheers of 'Kohli Kohli' greeted Naveen when he entered the bowling attack. While India chased a target of 273, the two players shared a lighter moment. For Naveen, the matter never extended beyond the cricket field.
Naveen stated to PTI, "The crowd will naturally cheer for their home team, and that's what happened. It's Kohli's home ground. He's a good guy, a talented player, and we exchanged pleasantries. What transpired was confined to the field; it didn't spill over outside of it. People tend to sensationalize such incidents for their followers. Today, he said, 'We're finished with that,' and I responded, 'Yes, we are.' We shook hands and embraced."
The 24-year-old has only participated in nine ODIs and intends to retire from the format after the World Cup.
During the match, Virat asks the crowd to stop booing Naveen ul Haq.
Regarding his retirement plans, Naveen remarked, "To be honest, more international bowlers may choose to step away from ODI cricket due to the imbalance between bat and ball. I wish I could have played more ODI cricket, but circumstances are what they are."
Also Read: ODI World Cup 2023: Rohit Sharma surpasses Kapil Dev's fastest century record
Last Updated Oct 12, 2023, 1:06 PM IST