ODI World Cup 2023: Rohit Sharma makes history; First Indian captain to score World Cup century in two decades
In a momentous feat, Rohit Sharma, the captain of the Indian cricket team, has scripted history by becoming the first Indian captain to score a century in the World Cup after an astonishing 20-year gap.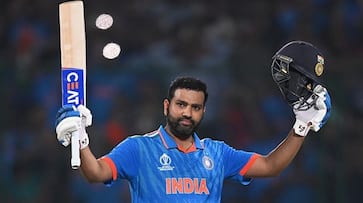 Rohit Sharma has achieved the distinction of becoming the first Indian captain to score a century in the World Cup in over two decades in the match against Afghanistan at the Feroz Shah Kotla in Delhi.
In the 9th match of the 2023 ODI World Cup, Rohit Sharma delivered a breathtaking performance that not only secured a crucial victory for India against Afghanistan but also put an end to India's long-awaited century drought by their captain. Rohit Sharma, at the age of 35, showcased his remarkable batting prowess as he achieved a magnificent century.
Prior to this remarkable century, Rohit Sharma had played over 50 matches across all cricket formats without registering many centuries to his name. The prolific Suarav Ganguly, a name etched in Indian cricket history, held the distinction of being the last captain to achieve a century back in 1999.
Rohit Sharma's century against Afghanistan in the ODI World Cup 2023 not only marked a significant personal milestone for him but also a historic moment for Indian cricket, as it had been quite some time since an Indian captain had reached this prestigious milestone. This extraordinary innings not only secured a win for the team but also signified the resurgence of Rohit Sharma as a dominant force in international cricket. His remarkable performance will undoubtedly be remembered as a turning point in his captaincy, instilling confidence in his leadership and batting capabilities. With this century, Rohit Sharma has once again solidified his reputation as one of India's most prolific and dependable cricketers, serving as an inspiration for cricket enthusiasts and a source of pride for the nation. His journey to this century, marked by perseverance and dedication, exemplifies the essence of cricketing excellence and serves as a testament to the enduring spirit of the sport.
Also Read: ODI World Cup 2023: Rohit Sharma becomes leading six-hitter, Breaks Chris Gayle's record
Last Updated Oct 11, 2023, 11:09 PM IST