ODI World Cup 2023: Ravi Shastri highlights crucial duel in India-Pakistan encounter
Former Indian all-rounder Ravi Shastri identifies the significant showdown between left-arm pacer Shaheen Afridi and the Indian opening batsmen as the key focal point in the highly anticipated India-Pakistan encounter at the ICC World Cup 2023.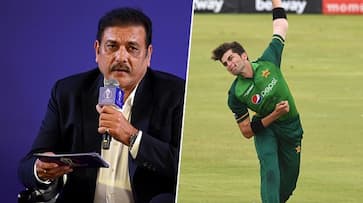 Former all-rounder Ravi Shastri has pinpointed the pivotal showdown between left-arm paceman Shaheen Afridi and the Indian opening batsmen as the focal point to watch in the eagerly anticipated India-Pakistan clash in Ahmedabad. Shaheen Afridi's track record includes dismissing Rohit Sharma on two occasions in international cricket, with Rohit averaging just 18.50 against him. Furthermore, Shaheen Afridi has faced Shubman Gill, securing a dismissal in one of their two encounters. In the event of Gill's unavailability for this marquee contest, Ishan Kishan is poised to open the innings.
Speaking with the ICC in anticipation of this high-stakes game, Ravi Shastri highlighted the critical nature of this duel in shaping the match's outcome.
"Shaheen Afridi against the Indian openers. It's a given, that's going to be the test, the challenge. Whoever wins that will go a long way in dictating terms in the game," commented Shastri.
While Shaheen Afridi boasts impressive overall ODI statistics with 88 wickets at an average of 24, his performance in the ongoing World Cup has been somewhat subdued, with only two wickets to his name and an economy rate of nearly 6.50 runs per over.
Shastri also emphasised the unique pressure and expectations that come with an India-Pakistan clash due to their infrequent encounters. Despite the pressure, he favored the hosts.
"In our playing days, we used to play Pakistan quite regularly, which doesn't happen as often now. So, obviously, the expectations are high, and as a player, you eagerly anticipate the contest, which means the pressure will be there. However, considering the home advantage and a player-to-player assessment, India holds the stronger side and thus starts as the favorite," Shastri emphasized.
Even though India and Pakistan have not engaged in bilateral series since 2012-13, Team India has had a dominant run in recent meetings, winning the last four encounters convincingly. Furthermore, India maintains a 7-0 lead in ODI World Cup matches against their arch-rivals, a streak dating back to 1992.
Also Read: ODI World Cup 2023: Will Shubman Gill play in India vs Pakistan clash? MSK Prasad drops hint
Last Updated Oct 13, 2023, 5:17 PM IST