ODI World Cup 2023: Mahmudullah's remarkable ODI comeback century against South Africa
Bangladesh's Mahmudullah staged a memorable return to ODI cricket during the ongoing ICC World Cup, making headlines with a remarkable century at the iconic Wankhede Stadium.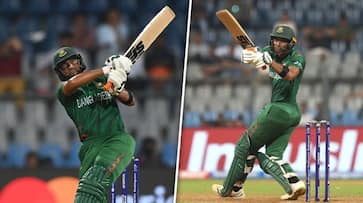 Mahmudullah from Bangladesh acknowledged that he may have had an extended period of rest before being reintroduced into the national ODI squad for the ongoing ICC World Cup. The experienced batsman returned to the ODI setup during the home series against New Zealand after a six-month hiatus. He had been sidelined following the home series against England earlier in the year, with the national selection panel categorizing his exclusion as 'rest.' This led many to speculate that Mahmudullah's international career was on the decline, given the team's emphasis on nurturing younger talent for the World Cup.
However, due to repeated failures of the younger players, the national team management eventually recalled Mahmudullah. Until the South Africa match, he was batting below the No. 6 position. Mahmudullah seized the opportunity and delivered an exceptional performance by scoring his fourth ODI century at the Wankhede Stadium, making a strong statement.
Reflecting on his absence from the national team, Mahmudullah commented, "I can't say much about that period when I was out of the national team. I have a lot to discuss, but this isn't the appropriate time." He continued, "I don't know. Perhaps, it's by the grace of Allah that I had the strength to persevere. I focused on maintaining my fitness and continued working diligently. All I can express is my desire to contribute to the team. I would have liked to contribute even more to secure a victory."
Regarding the extended rest, Mahmudullah explained that it was not within his control and was a decision made by the team management. He stated, "I believe there might have been a bit too much rest for me. However, I had no control over that. It was the decision of the team management. If I can fulfill my responsibilities diligently, that is sufficient for both me and the team."
Despite batting lower down the order than his preferred position, Mahmudullah expressed no resentment. He said, "I have experienced numerous ups and downs throughout my career. Batting down the order is perfectly fine." He recounted that the coach informed him of his placement at No. 6 in the batting order before the match, and he focused on playing his natural game without targeting a century.
He also mentioned his dedication of this century to his family, thanking all those who supported and even those who had reservations during this pivotal phase of his career. Mahmudullah said, "I would like to dedicate it to my family and those individuals who stood by me and offered their prayers over the last three months. I want to express gratitude to those who supported me, as well as those who didn't."
Also Read: ODI World Cup 2023: Uncertainty surrounds injured Hardik Pandya's availability for England clash
Last Updated Oct 25, 2023, 12:52 PM IST