ODI World Cup 2023: Ben Stokes poised for a comeback in the clash against South Africa
After battling an injury setback, England's cricket star Ben Stokes is on the brink of making a remarkable comeback in their World Cup campaign against South Africa.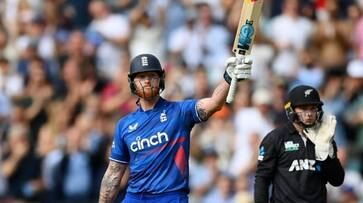 Ben Stokes is determined to make his return to the field against South Africa, expressing his eagerness to rejoin England's XI after missing the opening three matches due to a left hip injury. He had come out of retirement for this World Cup, with high hopes, but his injury hindered his participation. His last appearance was on September 13 when he scored an impressive 182, which stood as England's highest individual ODI score, against New Zealand at The Oval.
England's captain, Jos Buttler, had mentioned that Stokes was "close" to featuring in the game against Afghanistan in Delhi last Sunday. Now, it seems highly likely that Stokes will make his comeback this weekend, as long as he successfully completes the planned training sessions on Thursday evening and Friday afternoon. In a statement to BBC, Stokes voiced his determination to play on Saturday, emphasizing the hard work he has put into his recovery to be available for selection.
He expressed his readiness and optimism, stating that everything is in order, and he is in a good place physically. Stokes acknowledged that it had been "frustrating" to be sidelined and not actively contributing to the team's performance in the first three games. He rejoins the squad as they face the challenging situation of their semi-final aspirations being at risk due to recent losses to New Zealand and Afghanistan. Stokes emphasized the need to put these setbacks behind them, emphasizing that it's a long tournament with more cricket to be played.
After a couple of days off in Mumbai and with families joining the players, Stokes highlighted the opportunity to recharge and prepare for the crucial match against South Africa. He is looking forward to the game, recognizing South Africa's strong performance in the tournament and the excitement of playing at the Wankhede, a venue known for its favorable conditions for batsmen. Stokes expressed the hope that this game could be the turning point for England in the World Cup.
Also Read: ODI World Cup 2023: India dealt a heavy blow as Hardik Pandya suffers ankle injury against Bangladesh
Last Updated Oct 19, 2023, 6:06 PM IST