Internet erupts as Heinrich Klaasen unleashes destructive 174 off 83 balls against Australia (Watch)
Cricket enthusiasts were treated to a mesmerising display when South Africa's Heinrich Klaasen delivered a record-shattering performance, scoring an astounding 174 runs during an ODI encounter against Australia. As a result of Klaasen's incredible innings, South Africa concluded their first innings with a commanding total of 416/5 on the scoreboard.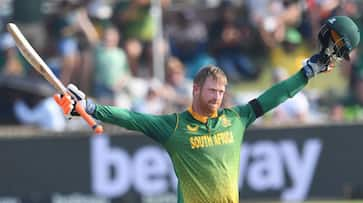 In a sensational display of cricketing prowess, South Africa's wicketkeeper-batsman, Heinrich Klaasen, left the entire cricketing world in awe as he authored a breathtaking innings of 174 runs off just 83 balls in the fourth SA vs. AUS ODI match. Social media platforms were ablaze with fervent reactions from cricket enthusiasts and fans worldwide, as Klaasen unleashed an onslaught of boundaries and sixes, creating an unforgettable spectacle.
During this extraordinary innings, Klaasen exhibited absolute dominance over the Australian bowling attack, dispatching deliveries to all corners of the ground with incredible precision and power. His remarkable knock comprised a staggering tally of 13 fours and an equally impressive 13 sixes, underlining his ability to find the ropes with ease and launch the ball into the stands with unmatched ferocity. This scintillating performance not only showcased Klaasen's remarkable talent but also played a pivotal role in helping his team achieve a monumental first-innings score of 416/5.
The significance of this achievement extends beyond the record books, as it had a profound impact on the ongoing South Africa vs. Australia series. Having found themselves trailing 2-0 in the five-match series, the Proteas were in dire need of a turnaround. Heinrich Klaasen's heroic display not only lifted the spirits of the team but also served as a rallying point for South African cricket fans worldwide.
As social media platforms were inundated with reactions, ranging from awe and admiration to sheer amazement, it became evident that Klaasen's unforgettable innings had etched its place in the annals of cricketing history. The internet, often described as a vast virtual arena, was transformed into a digital stadium echoing with cheers and applause for the South African cricket sensation.
In essence, Heinrich Klaasen's astonishing 174-run innings was not just a cricketing spectacle; it was a moment that transcended boundaries, uniting cricket lovers worldwide in celebration of the beauty and brilliance of the sport. It was a reminder of the magic that unfolds on the cricket field, where heroes are made, records are shattered, and the world collectively holds its breath in awe of the extraordinary.
Here are some of the twitter reactions: 
Last Updated Sep 15, 2023, 10:42 PM IST