I'd rather die than cheat my nation: Shami's patriotism in old video resurfaces (WATCH)
Amidst the glories of his outstanding cricket performance, an old video of Indian cricketer Mohammed Shami has resurfaced, showcasing his unwavering patriotism.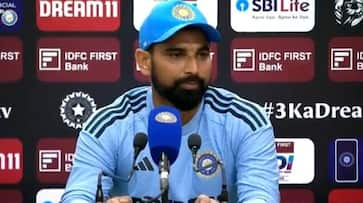 In the wake of his stellar performance in the semi-final against New Zealand, an emotional video featuring Mohammed Shami from 2018 has once again captured the internet's attention. In this video, Shami poured out his feelings in front of the media, addressing the accusations against him by his wife, Hasin Jahan. Jahan has alleged that Mohammed Shami not only cheated on her but also betrayed his own country.
Accusing the Indian player of both infidelity and match-fixing, Jahan's claims sparked controversy. However, in an exclusive interview with ABP News, Shami vehemently refuted all such allegations, asserting his unwavering loyalty to his country.
"As for the allegations regarding compromising my performance while playing for the country, I want to make it clear that I would rather face death than betray my country. My allegiance to the nation is unshakable, and I hold the Indian Army in the highest regard."
Also Read: 'All the morons...': Sunil Gavaskar's explosive reply to pitch switch 'nonsense' in WC semifinal (Watch)
Last Updated Nov 16, 2023, 12:42 PM IST